Description
Join us on 20 October 2018 for a LEATHER WILD ROSE WORKSHOP.
If you have not made any leather flowers before or have recently started your exciting journey into leather flower making, this workshop is for you.
Along with the range of photo and video tutorials PresentPerfect Creations offer an opportunity to book flower making classes with Svetlana Faulkner, the designer/maker behind PresentPerfect Creations.
Workshops are delivered in small groups of up to 3 students at a time. If desired, the leather English rose can be turned into a corsage or a headpiece  on the day.
What you'll learn in this workshop:
❀ making the stiffening solution for leather flowers
❀ stiffening and shaping petals, leaves and the calyxes by hand
❀ using a pair of tweezers for shaping rose petals
❀ assembling the rose and the bud
❀ assembling the leaves into branches
❀ assembling the corsage / or headpiece
Flower making classes take place in the picturesque English town of Stamford (http://www.visitstamford.com), where Svetlana lives and creates her flower pieces. If you need more information on how to get to the venue please contact us at enquiries@presentperfectcreations.com
Price includes all the required materials and supplies as well as  tea/coffee and a light lunch.
Millinery tools are available for students to use, but you are encouraged to bring your own flower iron and a set of tools if you have them.
The workshop runs from 10 am till 4-5 pm depending on the complexity of the design and the progress on the students.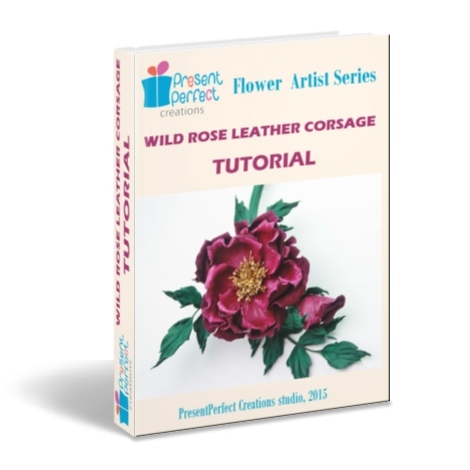 In case if you are unable to make it to the workshop in person, please consider buying our detailed step-by-step tutorial on the Leather Wild Rose Corsage
❀ ❀ ❀ ❀ ❀ ❀ ❀ ❀ ❀ ❀ ❀ ❀ ❀ ❀ ❀ ❀ ❀ ❀ ❀ ❀ ❀ ❀ ❀ ❀ ❀ ❀ ❀ ❀ ❀ ❀ ❀ ❀ ❀ ❀ ❀ ❀ ❀ ❀ ❀ ❀ ❀ ❀
***Cancellation policy: 
If you prefer you can pay 50% deposit at the time of booking. The rest of the amount has to be paid no later than a week before the workshop is due. To pay the deposit please go to https://presentperfectcreations.com/product/deposit-individual-fabric-flower-making-classes/
For bookings made less than a week before the date of the class the total fee is payable upon booking.
if the booking is cancelled within a week of the class date the deposit fee will be forfeit.
❀❀❀❀❀❀❀❀❀❀❀❀❀❀❀❀❀❀❀❀❀❀❀❀❀❀❀❀❀❀❀❀❀❀❀❀❀❀❀❀❀❀❀❀❀❀❀❀❀❀❀❀❀❀
If you wish to get flower making tips, special offers and discounts as well as be amongst the first ones to learn about new flower making tutorials and workshops please feel free to join our mailing list by filling in the form below
[grwebform url="https://app.getresponse.com/view_webform.js?u=U5y8&wid=10058202″ css="on" center="off" center_margin="200″/]