Description
Join us on 28 September 2019 for an ADVANCED one-to one FLOWER MAKING WORKSHOP.
Level: advanced***
Along with the range of our photo and video tutorials PresentPerfect Creations offer an opportunity to book individual flower making workshops with Svetlana Faulkner, the designer/maker behind PresentPerfect Creations for a day on a flower of your choice, leather or fabric.
Fabric flower making classes take place in the fine city of Norwich (https://www.visitnorwich.co.uk/) where Svetlana lives and creates her flower pieces. Come and learn to create a wide range of stunning flowers from silk flower brooches to bridal hairpieces to millinery flowers.
Before placing an order for a one day flower making workshop please contact us at enquiries@presentperfectcreations.com to agree the date and the flower that you would like to create.
Find below some ideas of advanced silk rose designs that you can make at one of the individual workshops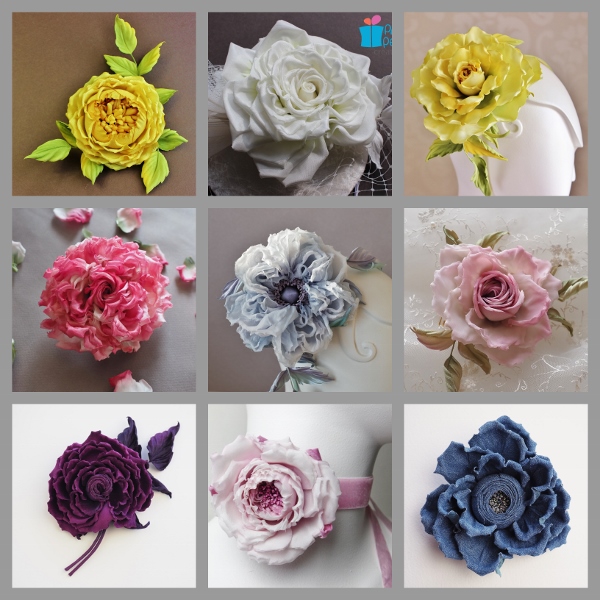 To secure your place a 50% deposit is required at the time of booking***
Please go to https://presentperfectcreations.com/product/deposit-individual-fabric-flower-making-classes/  to make a deposit payment.
Price includes all the required materials and supplies as well as  tea/coffee and a light snack
Millinery tools are available for students to use, but you are encouraged to bring your own flower iron and a set of tools if you have them.
If you prefer a weekday workshop instead, get in touch with us at enquiries@presentperfectcreations.com to arrange a different, mutually suitable day.
❀ ❀ ❀ ❀ ❀ ❀ ❀ ❀ ❀ ❀ ❀ ❀ ❀ ❀ ❀ ❀ ❀ ❀ ❀ ❀ ❀ ❀ ❀ ❀ ❀ ❀ ❀ ❀ ❀ ❀ ❀ ❀ ❀ ❀ ❀ ❀ ❀ ❀ ❀ ❀ ❀ ❀
***Cancellation policy: 
For bookings made less than a week before the date of the class the total fee is payable upon booking.
if the booking is cancelled within a week of the class date the deposit fee will be forfeit.