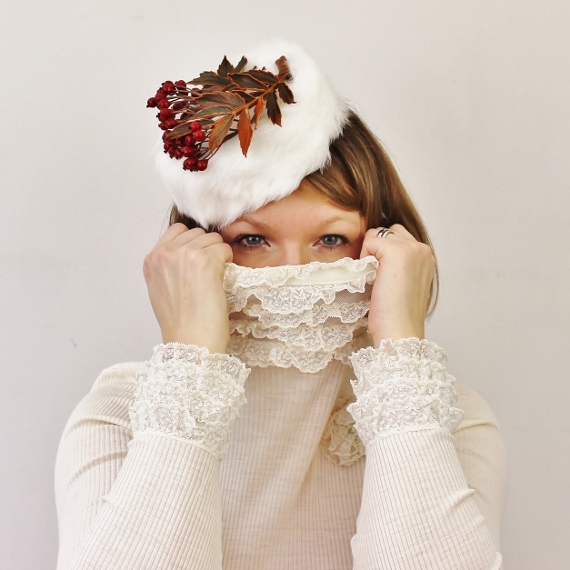 I created this white rabbit fur pillbox hat decorated with a cluster of leather rowan berries for the 2016 Hatalk hat making competition, where the theme was Connections.
My fantasy rabbit fur pillbox hat for a millinery competition: the why
The theme Connections is very broad; however the first connection I immediately thought of was a cultural connection, connection with my roots and traditions.
I live and create in the UK now, but I grew up in a small town in the Far North of Russia, lost somewhere between permafrost and the Northern lights. The climate is so harsh and cold locals have to wear clothes and boots made of fur in order to survive severe frosts and snow storms. I chose white rabbit fur for my hat thinking that it would represent snow of my childhood so very well.
Rowan is a meaningful symbol in the Russian culture. Numerous proverbs and poems, paintings and even recipes are dedicated to this symbolic tree that is so dear to the hearts of Russians. Touched by the first frosts rowan berries unlock their potential and become sweet and delicious to eat. They can be used in a variety of dishes and drinks. It is not uncommon to see clusters of rowan berries covered with heaps of fresh snow as part of winter scenery throughout Russia. Those snowy clusters of bright red berries were the vision I had in mind when I was working on my First Snow Fur Pillbox hat.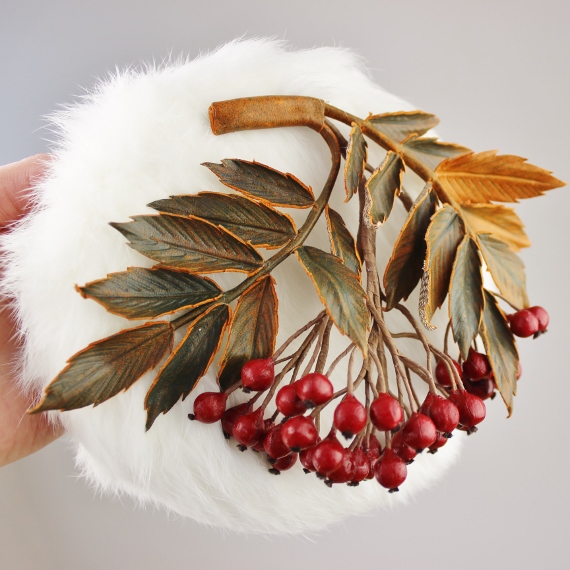 My fantasy rabbit fur pillbox hat for a millinery competition: the how
To make First Snow Fur Pillbox hat I blocked 2 layers of buckram, rabbit fur pelt and silk satin over a pillbox block (each material at a time). Then I wired the buckram base, put the blocked fur on top of it and stitched the two together around the bottom edge. After that I sewed in the lining and the petersham ribbon.
The cluster of rowan berries and leaves are made of genuine leather or several colours. All the leaves are backed with golden metallic lame fabric and shaped with millinery tools.I joined the berries in the cluster with hand dyed rayon pongee strips. The rowan berries and leaves are finished with a brooch pin. They can be removed and used as a separate brooch.
The result?
Alas, the white rabbit fur pillbox hat has not taken any prize in the competition, but with hope in my heart I am planning on taking part in other forthcoming hat making (and other!) competitions. Watch this space for more details.