How to access your tutorials and video courses:
If you have placed an order for digital DOWNLOADABLE tutorials (.pdf format),  you can find the relevant files either in the automated order confirmation you have received after paying for your order (see the photo below) or in your account by following this link
To access any of your purchased VIDEO courses, that can be watched in the dedicated area of my website, please use this link https://presentperfectcreations.com/video-courses/and then click on the relevant course from the list to access. Below the description of the course you will see the list of lessons that are included in the course in question.
Remember that you will need to be logged into the website to access the purchased video courses.
Should you have further questions regarding access, please get in touch with me at enquiries@presentperfectcreations.com
Enjoy!
Kind Regards,
Svetlana Faulkner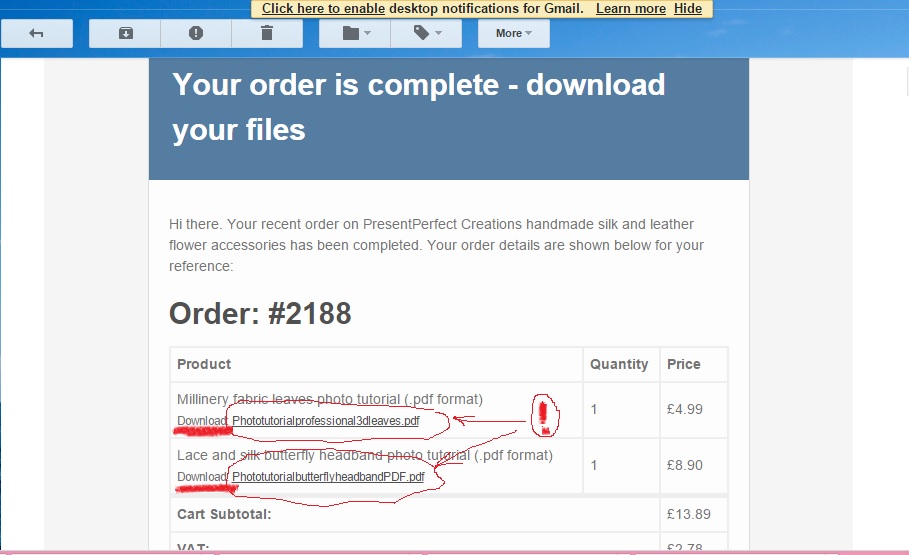 There highlighted with red pen there are clickable links which once pressed would start the download process to your computer.
The video tutorial is also accessed via a downloadable pdf which contains the links to video, picture and text files required for a particular tutorial.
We hope this helps. If the problem persists or the confirmation email with links is nowhere to be seen please contact us at enquiries@presentperfectcreations.com
Have a lovely time creating!