FLOWER MAKING BOOKS: ONE ARTIST'S LIBRARY
An overview of flower making books worthy of having in your artist's library
>For a selection of rare out of print Japanese flower making books click here.
❀ 6 ❀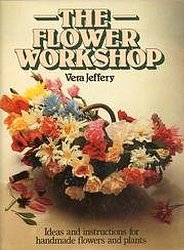 Another out of print book is The Flower Workshop by Vera Jeffery. The book starts with the basics of the craft (tools and supplies, how to prepare the fabric etc.) The second part covers flowers and plants that are made out of paper as well as fabric. It gives many original ideas for their use which are presented in 150 colour photographs.
The step-by-step instructions in text and line drawings are given for more that 40 different flowers including popular ones like roses, poppies, daisies, carnations etc. as well as more unusual and rare ones like azalea, stephanotis, hollyhock, orange blossom and others.
Section on special occasions covers Christmas flowers, gives ideas for Easter and of course weddings. Whilst some designs might look a bit out of fashion now, I think the amount of ideas presented in this book is fascinating.
Although the patterns are sometimes quite simple and unsophisticated, the book covers a lot of different flowers and their uses in interior decoration or accessories. I believe that The Flower Workshop by Vera Jeffery is a great book to have on your shelf, and what's more, you can pick your preloved copy for a fraction of its price.
Published in 1980
Language: English
160 pages
Click here to purchase the book
❀ 5 ❀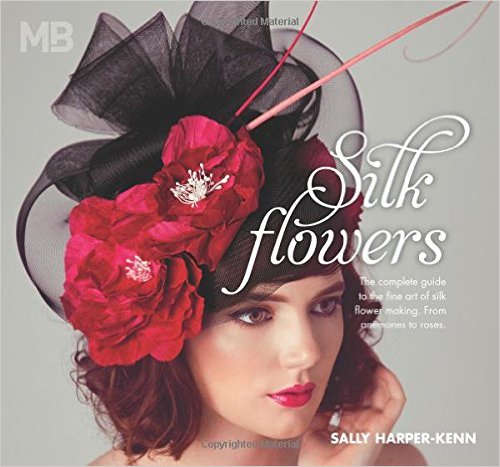 I guess Silk Flowers by Sally Harper-Kenn is the latest English language book on fabric flower making. I must say when I was ordering it online, I thought I would be getting a fairly large format book as they usually come. To be honest the book is rather small. It has plenty of colour photographs and gives instructions on how to create 6 fabric flowers (2 similar looking roses, narcissus, poppy, peony and anemone). The introduction is devoted to more general questions in fabric flower making i.e. what tools and fabrics to use, how to stiffen them and paint with the dyes or silk.
To make flowers in this book you are required to have a flower iron.
To sum up: unless you are a complete beginner, or just love to collect any book that is available on the subject of flower making as I do, you might not find the book informative or innovative enough.
Published 2014
Language English
74 pages
❀ 4 ❀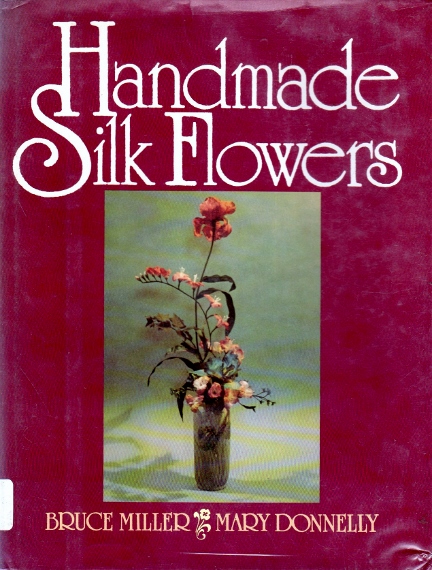 Another useful book called Handmade Silk Flowers by Bruce Miller and Mary Donnelly was published in 1986.
It was amongst the first books on silk flowers I laid my hands on and it is a definite must-have manual for all passionate about fabric flowers.
It offers patterns and instructions for 44 different plants including such rarities as Rhododendron, Geranium, Dogwood Blossom etc, as well as Maple and Ivy Leaves.
A short chapter is devoted to wedding flowers, giving some tips on making bouquets,  boutonnieres, corsages, hair combs plus a colour guide to wedding flowers.
My only criticism is that the patterns are not really very sophisticated resulting in rather simple flowers. As the book is almost 30 years old expect black and white photos along with drawings and very few colour photos to show some finished arrangements or flowers.
Having said that he book gives a thorough introduction to the process of silk flower making, including the review of tools and fabrics, fabric stiffeners and basic techniques and processes involved which makes it an invaluable beginners book for those who want to try and make their first silk blooms.
Published: 1986
Language: English
❀ 3 ❀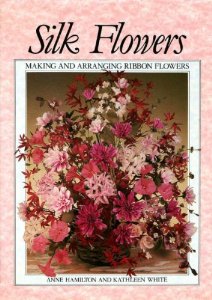 Silk Flowers; Making and Arranging Ribbon FLowers by Anne Hamilton and Kathleen White was published back in 1988. Anne Hamilton's passion for flower making started at a craft class in Hong Kong and grew bigger at a design school in Japan. There she also studied Flower Design and was accepted as a member of The Nippon Flower Designers Association of Japan. Her book shows how to make flowers from specially manufactured flower making ribbons but nothing stops us from using silks or other natural fabrics like cotton or linen for this purpose. To make some designs you will need a flower iron fitted with different heads. The introduction explaines some basic techniques including cutting, texturing, reinforcing and lining, taping, wiring, as well as making flower centres and assembling. The concluding section is devoted to flower arranging using silk flowers and provides useful information on arrangements, both traditional and modern, wedding flowers, church flowers, flowers as gifts and flowers to wear. The main part contains clear step-by-step instructions for nearly sixty different flowers and plants  including poinsettia, lily of the valley, fern, eucalyptus, Japanese maple etc. As I have mentioned special ribbons are used for making all the designs, but you can always use stiffened silk or cotton fabric, just remember to treat it to prevent it from fraying and to give it more body to hold the shape.As we all know there are very few good books on fabric flower making and this is definitely one of them. A variety of templates as well as a helpful section on different ways of using you creations makes it a really useful book for any flower maker.
Language: English
Published: 1988
160 pages
Click here to order this book on Amazon
❀ 2 ❀
The next book  I am going to talk about is Adornments: Sew and Create Accessories with Fabric, Lace and Beads
by Myra Callan, an accessories designer and a successful Etsy entrepreneur.
It is quite a fresh book as it was published only a couple of years ago. As we all know there is quite a limited choice of good books on fabric flowers, especially in English and especially modern. So naturally I was intrigued by this book and got it as soon as I laid my eyes on it.
I have mentioned before that the author is an accessories designer so the whole book is devoted to a number of projects ranging from earrings to fascinators. The presented accessories are made in a variety of techniques, most combine several of them.
The absolute benefit for this book for me is that it is full of ideas on how to use your flowers in different accessories, be it a fascinator, a sash, a bib necklace, a pair of earrings etc. After all, not only is it important to create a gorgeous flower but it is necessary to turn it into a piece of wearable art, into an accessory which can be used, worn and admired. And this book is a good source of inspirational ideas in this respect.
As for the flowers themselves for those of you who create fabric flowers professionally (and passionately!) there will be little inspiration. Although, some projects do require the use of a flower iron and heads, the blooms are rather simple and lack sophistication. I would recommend to combine your knowledge of flower making with the accessory ideas you can get in the book to create your own stunning pieces. For this reason  I find the book worth adding to a flower artist's library.
Published 2012
Language: English
Click here to purchase this book on Amazon
I would like to start with Handmade flowers from Paper and Fabric by Steve and Megumi Biddle, which was first published back in 1991.
As the title suggests the flowers described in the book can be made not only out of fabric, but also of paper and ribbons, which makes it a useful craft book for those who are into paper flowers as well as fabric ones.
The introduction describes some general techniques of flower making as well as tools one needs to do the job, so even if you are a complete novice it should be enough to get you going. The electric flower iron is mentioned in the book but it is not used for any of the projects as it is deemed to be an expensive tool requiring a high level of skill to operate (which is strictly speaking very true!)
The book gives instructions for 28 flowers and plants including such interesting ones as foxgloves, bird of paradise, strawberries, frangipani, nerine etc. Most of the flowers are made on stems and shown in arrangements but tips on how to make corsages and bridal bouquets are also given along with life-size patterns to every project.
Overall it is a good book worthy of being added to your collection of flower making books and with a bit of imagination you can use the patterns provided to make your very own original designs, be it arrangements for your home or summer corsages to add to your outfit.
Language: English
Published: 1991
160 pages
Click here to order this book on Amazon