Description
Important: All our tutorials are available for immediate download once you've completed the purchase. Please use a link found in the automated confirmation email you receive from our website.
Our Studio is delighted to present a leather rose brooch tutorial, featuring a complex rose shaped with millinery tools.
The step-by-step detailed tutorial explains how to create a large rose corsage from scratch using genuine leather.
With more than 150 pictures explaining in detail the whole process of creating your own leather flower corsage, this 89 page pdf tutorial (no hard copy is available) will teach you to create a sophisticated leather flower to be used in accessories, as wedding decorations, in millinery and much more. I have included the pattern too.
The leather corsage tutorial is aimed at the artists with some previous experience in either fabric or leather flower making. The reasons are
🌸🌸🌸 it does require specialist (millinery) tools that are expensive and hard to find.
🌸🌸🌸 it employs some advanced techniques of petal shaping and assembling.
If you have made a flower with the help of our previous tutorial on WILD LEATHER ROSE you should try this one. On the other hand if you have not made leather flowers before, you have got the right tools are you would love to have a go, you absolutely should!
By changing the size of the templates provided you will be able to create flowers suitable for a range of your projects, as well as a rosebud to go with the open rose.
Level: intermediate (requires some experience, time and patience)
Time: about 7 hours on average (plus the drying time)
Who this leather corsage tutorial is for:
– accessory designers
– milliners
– leather flower makers
– little girls' mothers
– those, who love to create their own accessories as a hobby.
A short teaser video on this tutorial can be watched on our Youtube channel here.
The large asymmetrical rose made of leather can be turned into a headdress, choker, a hair vine etc. It can embellish a leather bag, a belt or used in millinery to decorate hats and fascinators. There is very little information available on how to create flowers out of leather so we do hope that you will find this tutorial informative and useful. Should you have any comments or suggestions please contact us at enquiries@presentperfectcreations.com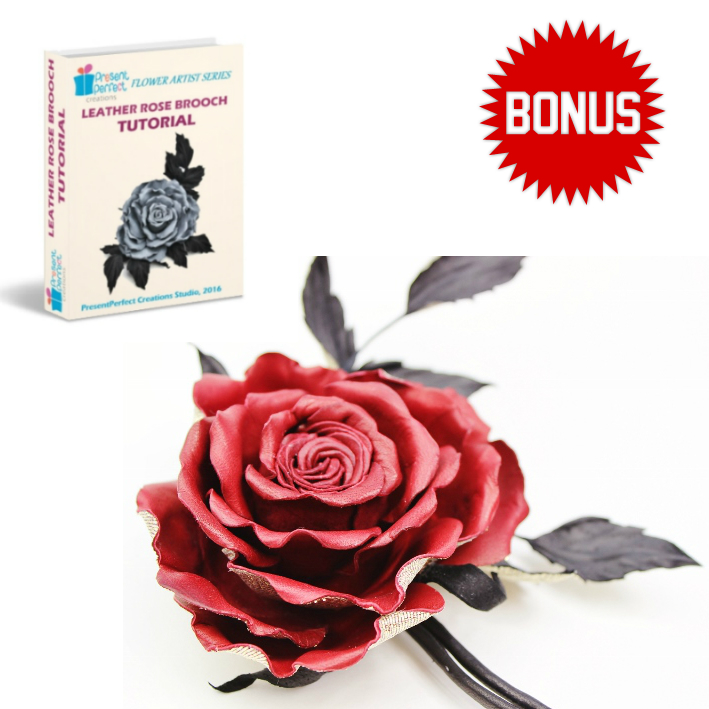 We have prepared a pleasant bonus with this tutorial, which you can get by leaving a review on this tutorial. More information on the bonus to be found inside the tutorial.
Please have a look at the list of materials and tools and if you are not sure you have everything you need please convo us before buying the leather corsage tutorial to clarify any questions you might have.
Purchase this tutorial now and you will be able to download it the minute your payment has cleared.
To open the file with a tutorial you will need a programme called Adobe Reader (or similar), and it is free to download on-line.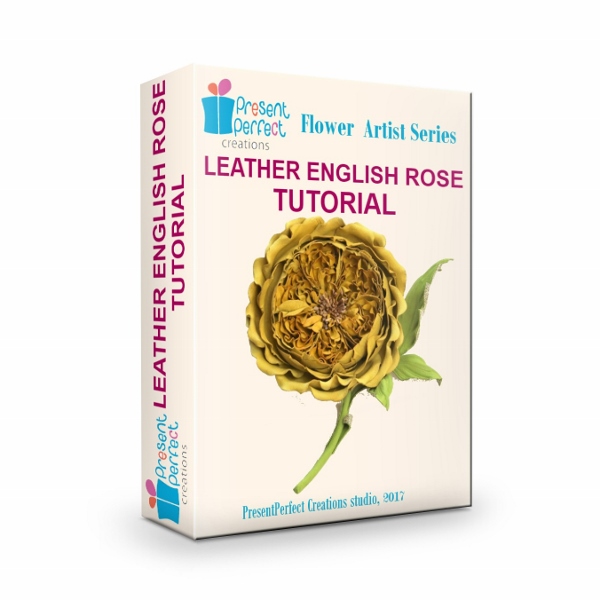 PLEASE NOTE: NO MATERIALS are included in the price. The price you pay is for a .pdf ebook. There is no charge for postage.
If you enjoy making leather roses please feel free to check this tutorial on a Leather English Rose, that is also suitable for artists with experience. The Leather English Rose features the iconic rosette centre, that is so loved by many. Leather flower making kits available separately.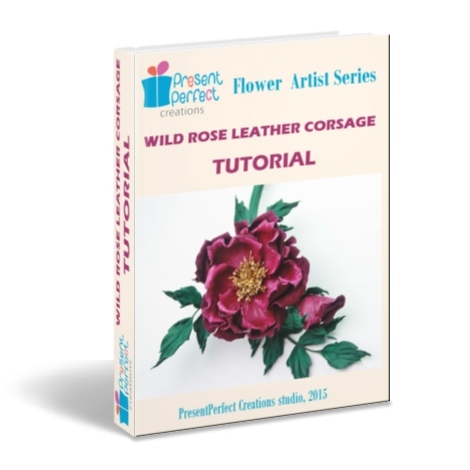 If you wish to try your hand at making a simpler rose have a look at this NO SPECIALIST TOOLS Leather Wild Rose Tutorial.
ATTENTION OUR EU CUSTOMERS: Since January 1st 2015, all digital goods (including electronic, telecommunications, software, ebook and broadcast services) sold across EU borders have been liable under EU law to EU VAT charged in the country of purchase, at the VAT rate in that country. The price for this product is displayed exclusive of VAT.  The final price including VAT of your country will be recalculated accordingly and shown on checkout.