Description
NEW
Due to popular demand I am happy to present this LIMITED EDITION of a specially designed and hand dyed DIY Kit for making a Silk Dandelion Clock stick pin paired together  with a brand new Silk Dandelion VIDEO tutorial.
With the help of this video tutorial you will be able to create a VERY REALISTIC LOOKING silk dandelion clock with a semi spherical clock and leaves and then turn it into a compact wearable piece of textile jewellery as well as infinite number of other original pieces with this whimsical botanical.
This autumn I am revisiting my bestselling Silk Dandelion photo tutorial in order to offer you this new 70 minute video jam packed with latest tips and tricks to improve your dandelion making skills and speed up the process, too.
Feel free to turn your dandelion into a standalone stick pin (as I am showing in the video) or vast number of other original pieces.
This Silk Dandelion Clock Pin Video tutorial is aimed at flower artists of all levels, however previous experience in flower making will be really helpful. Patience, neatness and attention to detail are required.
Whilst I am showing how to shape leaves with a heated millinery tool, this step can be skipped if you haven't got tools. Instead, use the tips I am offering on hand shaping to finish your dandelion leaves.
This DIY material kit has been designed to go together with the detailed photo tutorial for making a Silk Dandelion Clock Brooch in the comfort of your own home or studio.
The kit contains all the necessary materials. It DOES NOT contain any tools, glue or fabric dyes.
Here is the list of what you will receive with the Silk Dandelion Kit: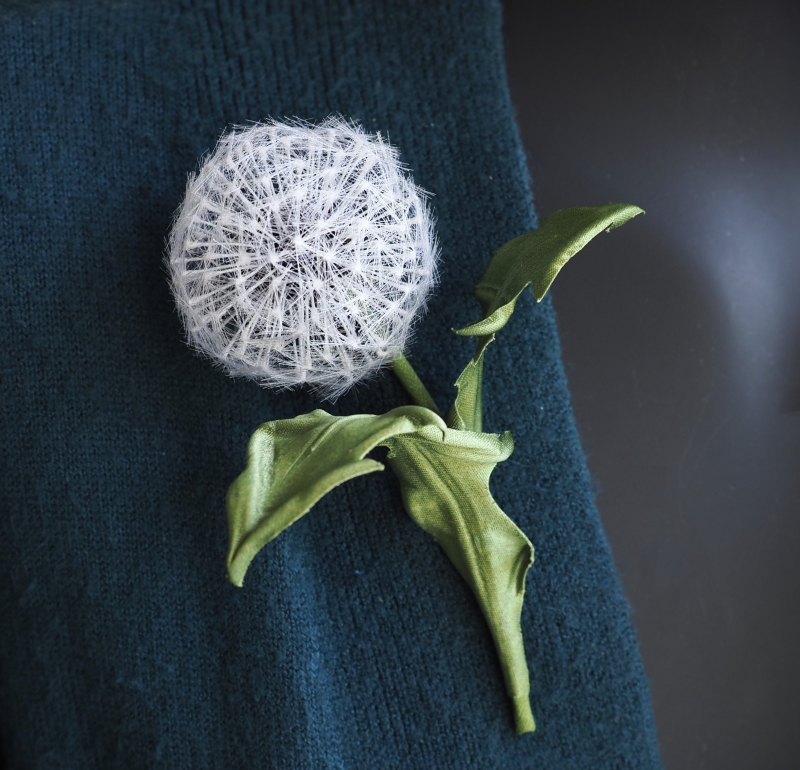 ❀ Silk Organza* 
❀ Rayon Satin*
❀ Rayon Jacquard*
❀ Thin Backing Fabric*
❀ Skein of stranded cotton
❀#24 wires
❀# 33 wires
❀ stick pin
+ naccess to a 70 minute VIDEO tutorial on the Silk Dandelion Clock stick pin (as seen in the photo on the right)
* All the fabrics are prestiffened, HAND DYED and ready to use
With the help of this DIY Silk Dandelion kit you can make one semi spherical silk dandelion stick pin as per Silk Dandelion VIDEO.
If you are interested in the downloadable tutorial ONLY you can purchase it at https://presentperfectcreations.com/product/silk-dandelion-tutorial/ 
Should you have any queries or questions please contact us before placing an order at enquiries@presentperfectcreations.com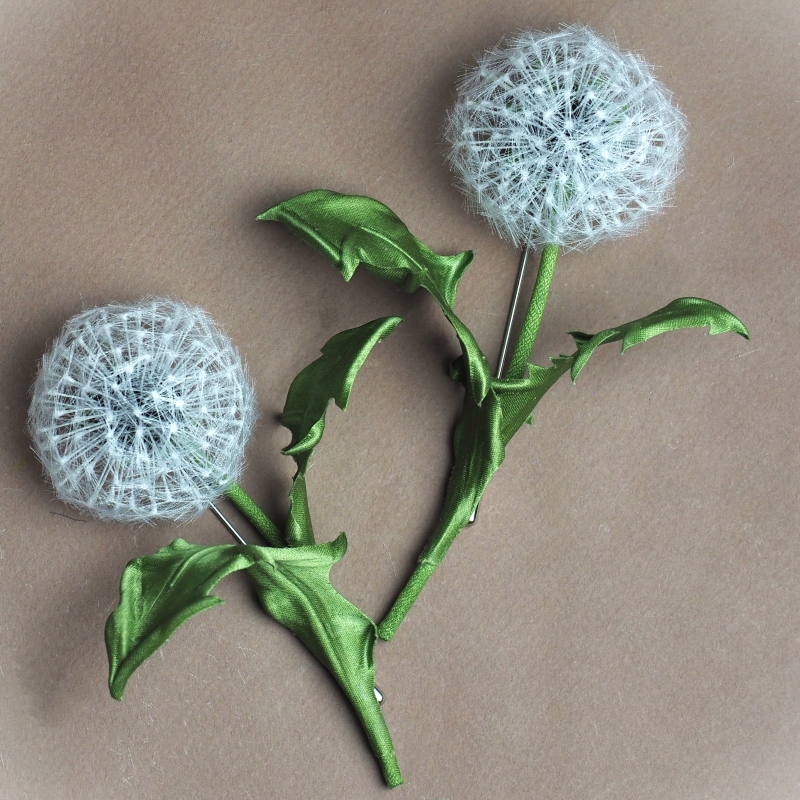 You are welcome to follow me on Instagram here 
or become my patron on Patreon here