TUITION IN FLOWER MAKING 👇
Click on the links below to shop for flower making tutorials, kits and workshops
 ~~~~~~~~~~~~~~~~~~~~~~~~~~~~~~~~~~~~~~~~~~~~
Looking to propel your skills in fabric or leather flower making? We are here to help you.
Svetlana is delighted to share her skills and knowledge with those of you who wish to take their silk or leather flower making to the next level.
Feel free to browse PDF Tutorials section and purchase our instantly downloadable instructions on textiles accessories.
Our Video tutorials section is constantly being updated with new video tutorials released on a regular basis.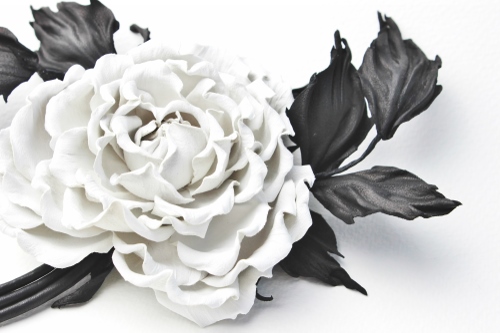 Svetlana offers advanced leather flower making classes on one-to-one basis as well as to small groups of up to 3 students. We would recommend to start with this beautiful
asymmetric leather rose that you can create during just one workshop thanks to the way our classes are designed. You will learn a number of new skills starting from stiffening leather and shaping petals to assembling the whole piece together. Leather flower making classes delivered by Svetlana are particularly useful for those milliners or leather accessory makers that would like to make their creations fine one of a kind pieces of wearable art.
We are pleased to offer flower making workshops on a range of different flower designs, enough to cater for all tastes and dreams. To check out what's on at the moment please click here.
Lessons can be individual or group as well as online and in person. For more details / bookings please e-mail us at enquiries@presentperfectcreations.com
To stay updated with our news, receive free tutorials and special discounts please feel free to subscribe to our updates here