Description
This tutorial celebrates the versatility, accessibility and sustainability of humble cotton. Cotton fabrics come in many finishes and weights and are made to be turned into beautiful flowers. How? This is the subject of this tutorial.
Today we are making a miniature tulip brooch from scratch.These miniature tulips in classic red make a delicate and at the same time bold piece of casual spring jewelry which will attract glances. Create this piece for yourself or as a thoughtful gift to someone dear.
The posy arrangement demonstrated in the tutorial is perfectly suitable for other small flowers you already know how to make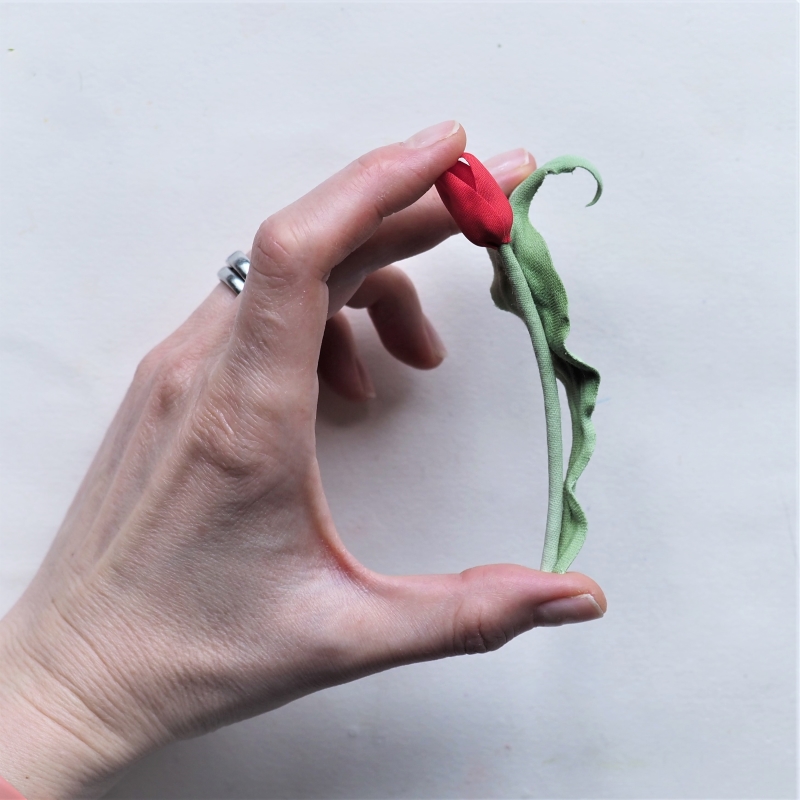 This cotton mini tulip tutorial is aimed at beginner and intermediate flower making artists with a set of flower shaping tools. In the tutorial we focus on working with miniature parts, experiment with familiar fabrics in an unusual way and strive to achieve a couture finish even on the smallest of flower pieces.

LEVEL UP: you will find tips and recommendations on how to make a very similar mini tulip brooch using genuine leather.
The tutorial does require the use of millinery tools (available to order here).
With more than 150 pictures explaining in detail the whole process of creating your own cotton mini tulip posy brooch, the 90 page step-by-step detailed digital photo tutorial (no hard copy is available) gives a step-ty-step explanation on how to create this stylised spring staple completely from scratch using humble cotton fabrics. The tutorial contains tips on how to finish the stems and arrange the elements of the posy into a wearable brooch. The photo tutorial comes with an additional video that demonstrates most tricky points for you.
To create the cotton mini tulip brooch you will require specialist flower shaping/ millinery tools (can be ordered here). Please refer to the photo which shows what supplies and tools you will need for this tutorial.

I am pleased to be able to offer fabric kits for this tutorial. Please find more information on cotton tulip brooch kits at https://presentperfectcreations.com/product/diy-material-kit-for-making-a-cotton-mini-tulip-brooch/
Prefer working with leather? Not to worry. This design lends itself well not only to other fabrics, but genuine leather. too. Find out how you can adjust the process and make these miniature tulips out of leather inside the tutorial.
Some of this detailed tutorial features include: 

learn to work with miniature parts

discover a quicker way of dyeing fabrics for flowers
learn to shape the leaves combining several techniques

  master the perfect fabric stems
learn how you can make the same design using genuine leather
experiment with other fabrics to make the tulips out of linen, denim etc.
Level:  beginner / intermediate (requires neatness and precision)
Time: about 7 hours on average (plus the drying time)
Please have a look at the list of materials and tools and if you are not sure you have everything you need please get in touch with us before buying the cotton mini tulip brooch tutorial to clarify any questions you might have.
Purchase this tutorial now and you will be able to download it the minute your payment has cleared.
To open the file with a tutorial you will need a programme called Adobe Reader (or similar), and it is free to download online.
PLEASE NOTE: NO MATERIALS are included in the price. The price you pay is for a .pdf ebook. There is no charge for postage.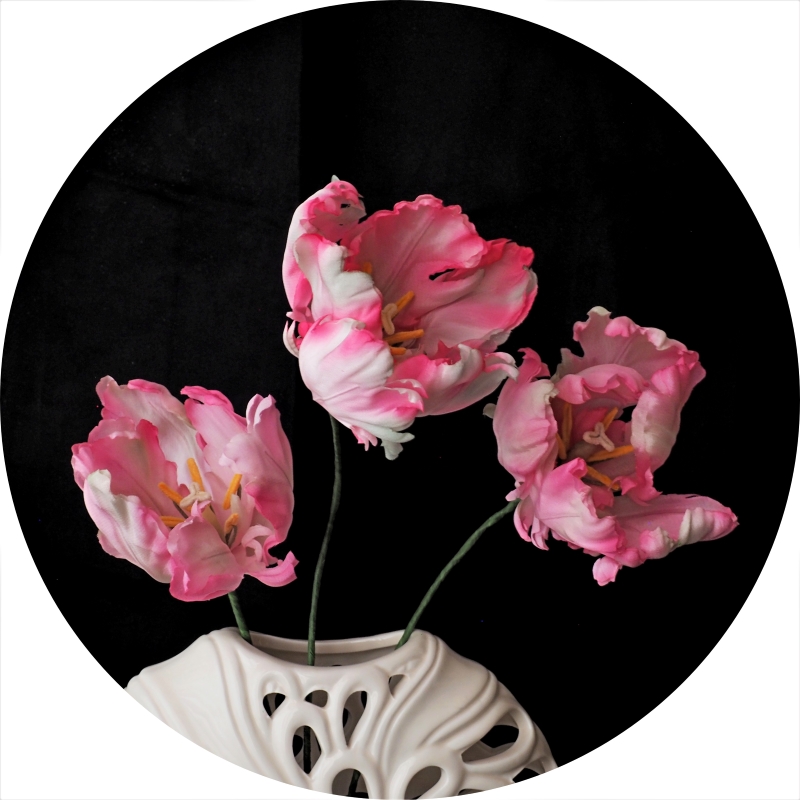 If you wish to make large Silk Parrot Tulips, make sure you check out my Silk Parrot Tulip Video Course here 
ATTENTION OUR EU CUSTOMERS: Since January 1st 2015, all digital goods (including electronic, telecommunications, software, ebook and broadcast services) sold across EU borders have been liable under EU law to EU VAT charged in the country of purchase, at the VAT rate in that country. The price for this product is displayed exclusive of VAT.  The final price including VAT of your country will be recalculated accordingly and shown on checkout.