Description
Our Iconic Silk Dandelion with a Flower Tutorial for the most adventurous makers.
By popular demand PresentPerfect Creations are delighted to present this silk dandelion tutorial.
You thought making a realistic dandelion clock by hand was not possible? Think again!
The step-by-step detailed photo tutorial reveals the mystery behind this humble garden weed. You will be able to create a wearable brooch with a silk dandelion clock and hopefully many more wonderful pieces.
With a 100 pictures explaining in detail the whole process of creating your own silk dandelion brooch, this 62 page pdf tutorial (no hard copy is available) will unlock the secret of a delicate nature's creation. Dandelion clocks can be used in jewellery, hat trims, as hairpieces or art toy accessories etc. I have included the pattern and a short video illustrating the process of making the fluffy white seeds too.
To create the dandelion clock itself you will not require any specialist millinery tools. Even if you have never tried making silk flowers you can still use this tutorial. The silk dandelion brooch includes 2 leaves, which will need shaping with hot millinery tools for a more realistic look. If you have not got the tools, you can purchase them here (limited supply only).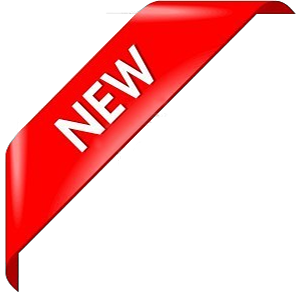 The Tutorial now contains instructions on how to make the silk dandelion flower too.
We are pleased to be able to offer material kits for this tutorial, Please find more information on silk dandelion brooch kits at https://presentperfectcreations.com/product/diy-material-kit-for-silk-dandelion-brooch/
SPECIAL OFFER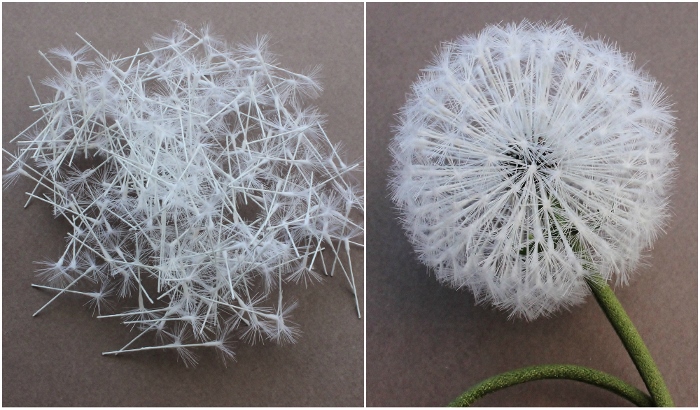 What you will learn in this tutorial
🌸 how to dye fabric for leaves and stems
🌸 how to make the centre of a dandelion clock
🌸 how to cover stems with fabric
🌸 how to make single white parachutes
🌸 how to assemble the dandelion clock
🌸 how to assemble and finish the brooch
By changing the size of the templates provided you will be able to create dandelion clocks suitable for a range of your projects, from small to large.
Level:  beginner (requires some time and patience)
Time: about 9 hours on average (plus the drying time)
To be amongst the first ones who receive new tutorials and specials offers on them please feel free to subscribe to our blog here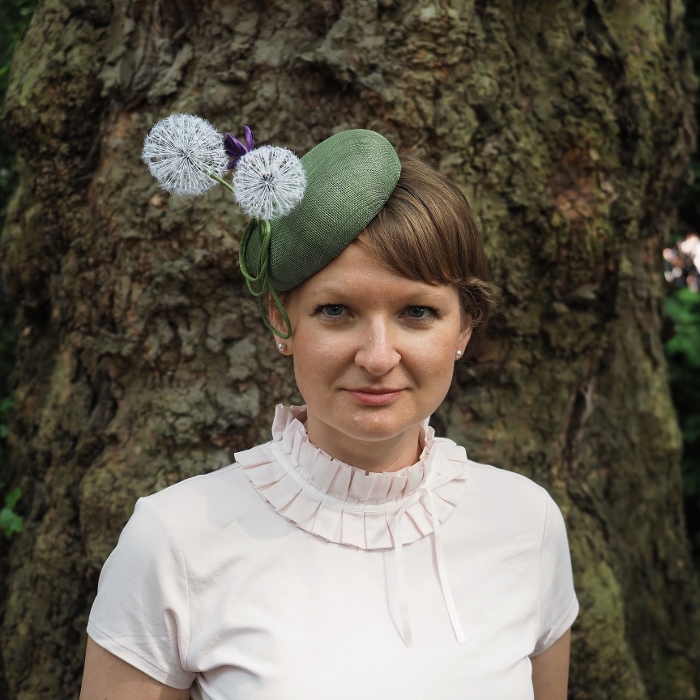 If you wish to purchase a headpiece or a hat with silk dandelion clocks please check out out selection here.
Please have a look at the list of materials and tools and if you are not sure you have everything you need please convo us before buying the silk dandelion clock tutorial to clarify any questions you might have.
Purchase this tutorial now and you will be able to download it the minute your payment has cleared.
To open the file with a tutorial you will need a programme called Adobe Reader (or similar), and it is free to download on-line.
PLEASE NOTE: NO MATERIALS are included in the price. The price you pay is for a .pdf ebook. There is no charge for postage.
ATTENTION OUR EU CUSTOMERS: Since January 1st 2015, all digital goods (including electronic, telecommunications, software, ebook and broadcast services) sold across EU borders have been liable under EU law to EU VAT charged in the country of purchase, at the VAT rate in that country. The price for this product is displayed exclusive of VAT.  The final price including VAT of your country will be recalculated accordingly and shown on checkout.