Description
Everybody knows what a poppy is. This beautiful but short-lived flower is ideal for hand-crafting fro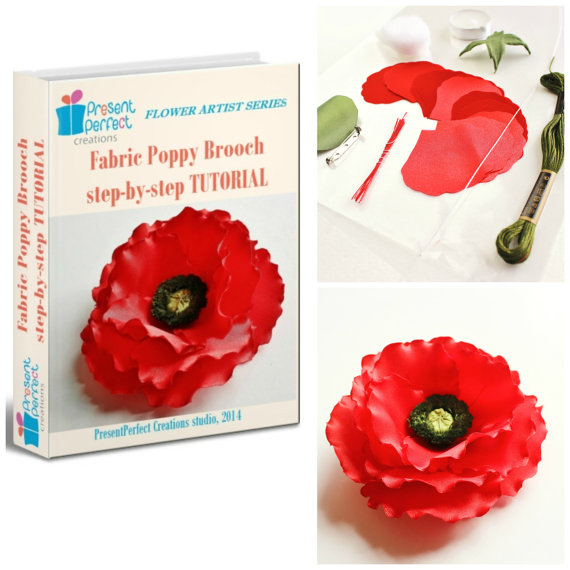 m fabric. It is suitable for beginners as well as more advanced artists.
Although more complex designs requires special millinery tools, the design I have for you today req
uires no special tools or expensive fabrics but still allows you to create a fantastic handmade accessory.
With more than 60 pictures explaining in detail the whole process of creating your own designer accessory, this 49 page Fabric Poppy tutorial (no hard copy is available) will teach you how to create a bright fabric poppy to be used in accessories, as wedding decorations, in millinery and much more. I have included the fabric poppy pattern too.
Level: beginner (requires some time and patience)
Time: about 4 to 5 hours on average
Who is this tutorial for:
– accessory designers
– milliners
– silk flower makers
– little girls' mothers
– brides, who have chosen a poppy theme for their W-day
– those, who love to create their own accessories as a hobby.
This bright corsage can complement your outfit. It also makes a wonderful gift for a dear friend or a member of the family. Let's not forget that the red poppy has been a symbol of commemoration for a long time.
Please have a look at the list of materials and tools and if you are not sure you have everything you need please convo me before buying the tutorial to clarify any questions you might have.
The tutorial is ready for instant download as soon as your payment has cleared. Purchase this tutorial now and you will be able to download it the minute your payment has cleared.
PLEASE NOTE: NO MATERIALS are included in the price. The price you pay is for a .pdf e-book. There is no charge for postage.
To open the file with a tutorial you will need a programme called Adobe Reader (or similar), and it is free to download on-line.
Feel free to check my blog post on this tutorial here https://presentperfectcreations.com/new-tutorial-out-ever-so-popular-poppy-lets-get-creative-this-autumn/
ATTENTION OUR EU CUSTOMERS: Since January 1st 2015, all digital goods (including electronic, telecommunications, software, ebook and broadcast services) sold across EU borders have been liable under EU law to EU VAT charged in the country of purchase, at the VAT rate in that country. The price for this product is displayed exclusive of VAT.  The final price including VAT of your country will be recalculated accordingly and shown on checkout.