Description
For the hottest month of the summer these tropical beauties have been picked.
Meet the charming Plumerias aka Frangipani 😊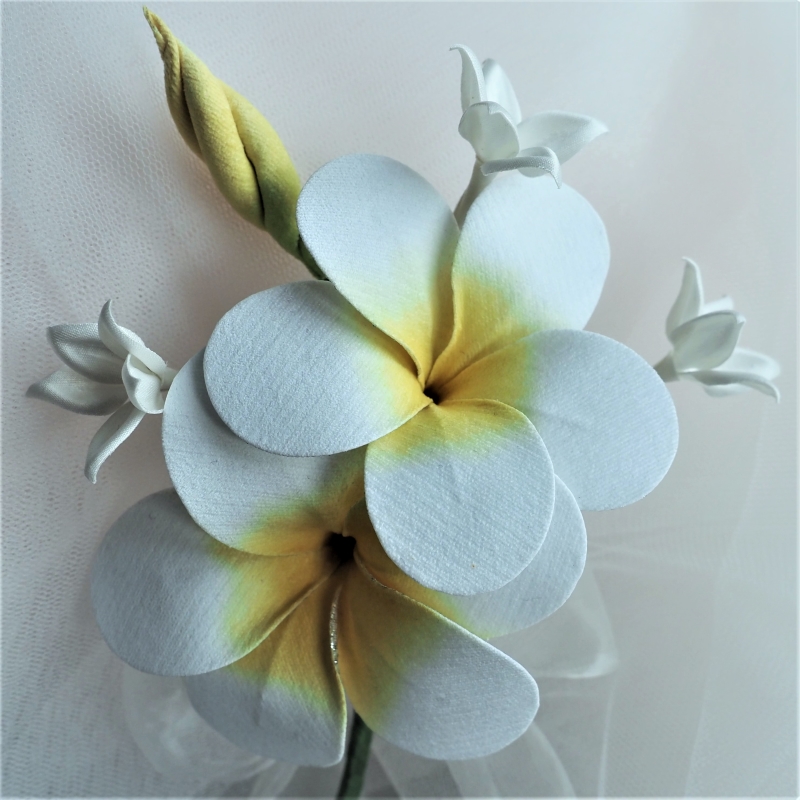 This August join Svetlana for a talk and practical demonstration and learn how to make the showy plumeria flowers.
This demonstration is perfect for complete beginners in flower making as plumerias can be made without any flower shaping tools.
Native to tropics, plumerials come in an array of colours from elegant whites to fiery reds and exotic hybrids. These flowers will surely captivate your hearts with their exquisite blossoms.
Plumerias are full of symbolism. Plumeria flowers represent a new beginning, beauty, charm, and grace.
The flowers are popular in the wedding arrangements and accessories. However  their neat five petal blooms will look stunning anywhere and in any colour.
The demonstration will include the making of an open plumeria flower using 2 types of templates and two methods, both tooled and no-tool ones, as well as the making of an inticate bud and some foliage. We will talk about ways of arranging fabric plumeria flowers, too, other applications and alternative materials.
The demonstration is suitable for all levels and can be recommended even to beginner students. Flower shaping tools are useful but you will learn how to make your version of plumerias without the use of any tools.
At  the end of the talk Svetlana will answer your burning questions, if there are any left.
TIME: 16-00 UK time (11-00 am EST) on 29 August 2023 (TUESDAY)
DURATION: about 90 minutes
Connection via Zoom
A recording of the Fabric Plumeria Flowers demo will be available to access after the event for the registered participants of this demo.
❀ ❀ ❀ ❀
The list of the required tools and supplies will be provided before the Fabric Plumeria Flowers Demonstration to all the registered participants.
In case if you have any questions, please do not hesitate to get in touch at enquiries@presentperfectcreations.com before booking your spot.
For all the previous recordings of Live Demonstrations visit my Demo Library here.