Description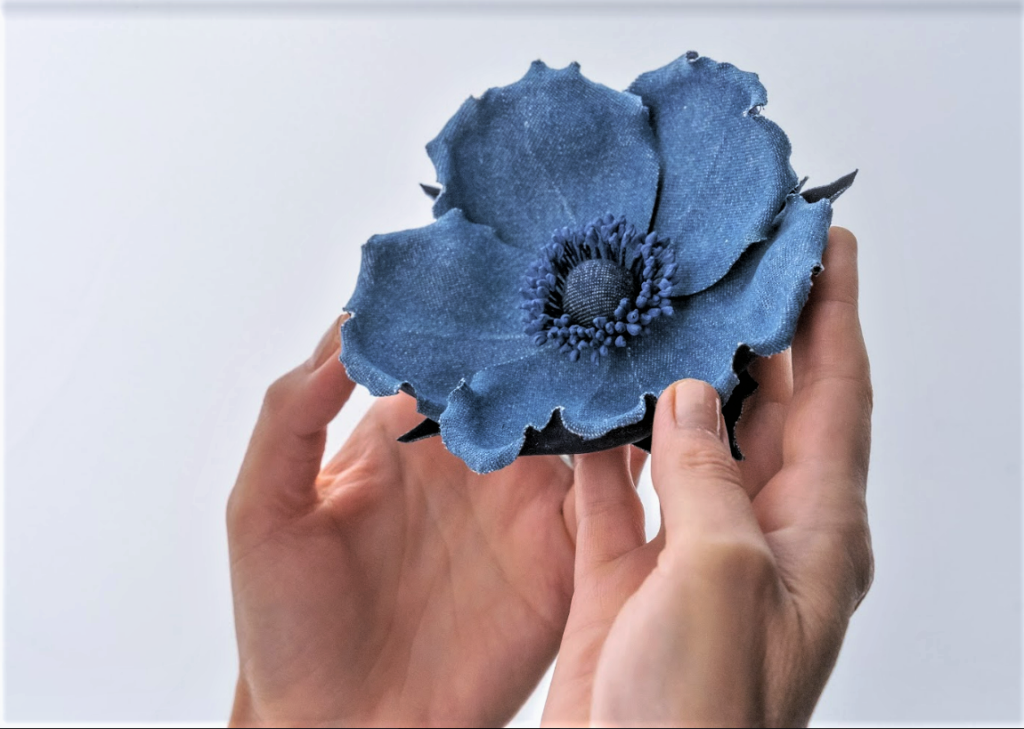 NB:

In case you have not got flower shaping tools, it is possible to make this style of rose without them. Please check out my No Tool Fabric Flower Course in partnership with Domestika here
~~~~~~~~~~
The Velvet Sweet Briar Rose tutorial is useful for those artists who would like to learn how to work with velvet as well as other heavy fabrics to create seasonal and matching flower accessories. This design is rather unique as it features a rose with a flat back easy to be worn as a corsage, yet it has a stem as well (very trendy!)
To help you choose a fabric for your Sweet Briar rose I have prepared this little velvet fabric overview video:

A striking design, the velvet Sweet Briar Rose with its plush hand sculpted petals is stunning and indeed very sweet.
Do not underestimate this misleadingly simple rose. With so few petals, there is nowhere to hide imperfections. You will learn how to create impeccable velvet petals that look so live and moving when in fact they are rock solid hard and very sturdy. The tutorial is aimed at brave beginners and intermediate flower makers with a set of flower tools (can be ordered here)
The thorough step-by-step detailed photo tutorial reveals the secrets of this stunning 5 velvet petal rose design, You will be able to create a wearable velvet rose corsage  as well as (hopefully) many more wonderful pieces with this original rose flower.
With more than 170 pictures explaining in detail the whole process of creating your own velvet Sweet Briar rose corsage, the 95 pdf tutorial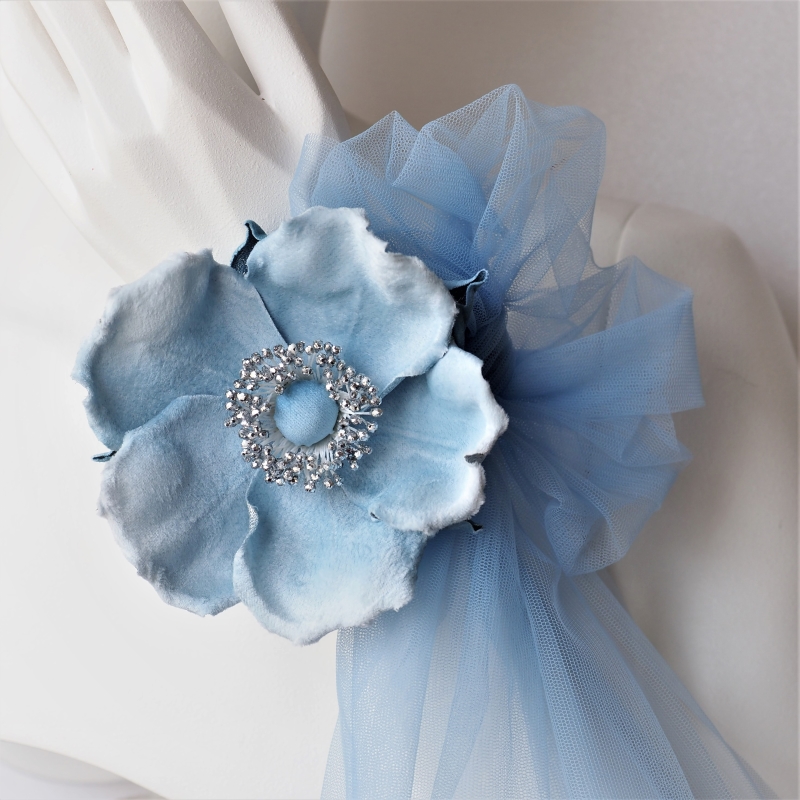 (no hard copy is available) will unlock the mystery behind sculpting velvet rose petals. I have included the pattern which you can enlarge or reduce in size depending on your project. The photo tutorial comes with 2 additional videos that demonstrate most tricky points for you.
To create the velvet Sweet Briar rose you will require some millinery tools. Please refer to the photo which shows which tools (or similar) you will need for this tutorial.
We are pleased to be able to offer material kits for this tutorial, Please find more information on velvet Sweet Briar rose DIY kits at https://presentperfectcreations.com/product/diy-material-kit-for-making-a-velvet-sweet-briar-rose-corsage/
In case you wish to create a rose with metallic stamens as pictured on the right please order this DIY kit instead https://presentperfectcreations.com/product/velvet-wild-rose-kit/
What you will learn in the velvet Sweet Briar rose tutorial:
🌸 how to cut out velvet petals correctly
🌸 how to dye velvet petals with a gradation of colour
🌸 how to back and shape leaves and calyx made of heavy fabrics
🌸 how to back velvet rose petals
🌸 how to shape heavy fabric backed rose petals in an unusual way to create the original look of the rose
🌸 how to create an unusual stamen centre for the rose
🌸 how to assemble a flat backed rose with a stem
🌸 how to make a wearable corsage with the velvet Sweet Briar rose
Level: beginner/ intermediate (requires neatness and patience, some previous experience in fabric flower making is highly recommended)
Time: about 7 hours on average (plus the drying time)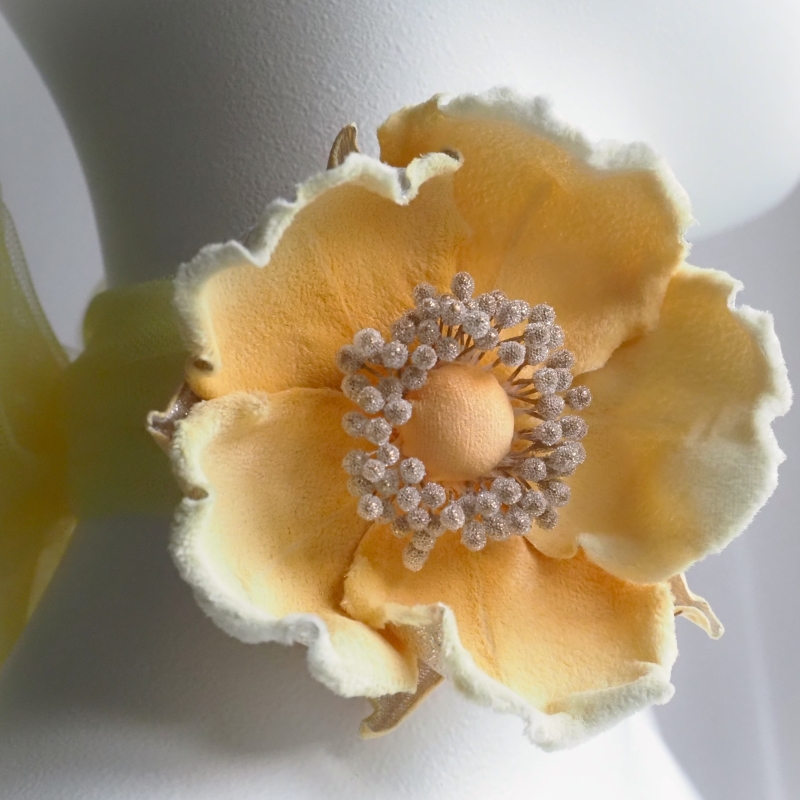 Please have a look at the list of materials and tools and if you are not sure you have everything you need please convo us before buying the velvet Sweet Briar rose tutorial to clarify any questions you might have.
Purchase this tutorial now and you will be able to download it the minute your payment has cleared.
To open the file with a tutorial you will need a programme called Adobe Reader (or similar), and it is free to download online.
PLEASE NOTE: NO MATERIALS are included in the price. The price you pay is for a .pdf ebook. There is no charge for postage.
ATTENTION OUR EU CUSTOMERS: Since January 1st 2015, all digital goods (including electronic, telecommunications, software, ebook and broadcast services) sold across EU borders have been liable under EU law to EU VAT charged in the country of purchase, at the VAT rate in that country. The price for this product is displayed exclusive of VAT.  The final price including VAT of your country will be recalculated accordingly and shown on checkout.
To be amongst the first ones who receive new tutorials and specials offers on them please feel free to subscribe to our blog here