Description

This Video Course has been created during the pandemic in order to support my focus group of students.Now you have a chance to master this type of rose yourself.
Feel free to watch a short intro video below in which I talk a little about the course

With the Linen Lace  video course you receive access to 120+ minutes of video instructions from the practising flower artist. Watch the video through the artist's eyes, follow the instructions and create, create, create!
Here's what you need for creating your own Linen Lace Rose:
MATERIALS:
❀ Fine Linen for the petals
❀ Coarse linen for the leaves
❀ Rayon ribbon* (or the fabric of your choice) for the stems
❀ Cotton Wool
❀ Wires #24, #26, #30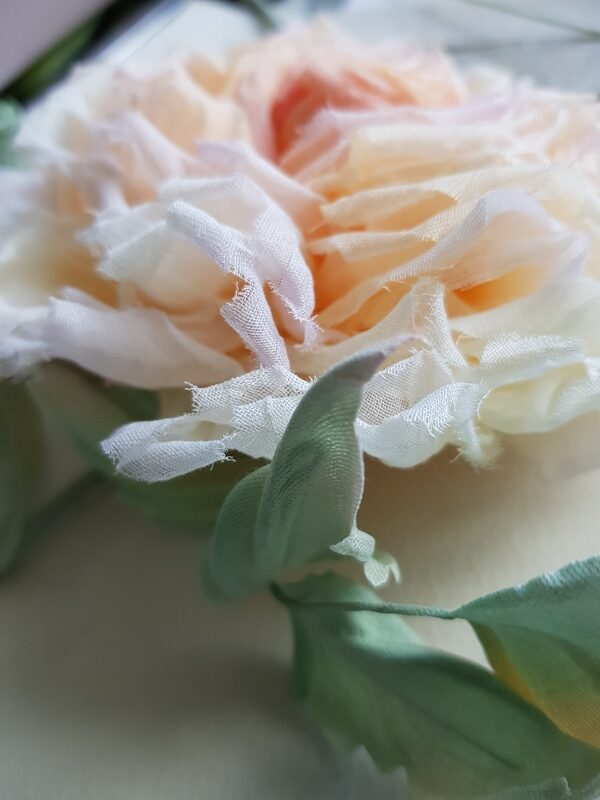 * All the fabrics need to be prestiffened before use
TOOLS:
❀ Knife flower shaping tool
❀ Extra narrow flower shaping tool
❀ Ball tools 2.5 cm and 3 cm in diameter
❀ Soldering iron
❀ Medium flower shaping pad
❀ Spray bottle
❀ Pen
❀ Hard and Soft Glue
❀ Silk dyes and brushes
If you prefer to work with specially designed DIY kits, you can purchase one for the Linen Lace Rose here
Level: intermediate+ (requires time, patience, previous experience in fabric flower making and a flower iron with a set of tools)
ALL FABRICS THAT ARE USED FOR MAKING FLOWERS HAVE TO BE STIFFENED BEFOREHAND using your favourite method.
Time: about 8 hours on average
Who this tutorial is for:
❀ milliners
❀ accessory designers
❀ bridal designers
❀ wedding decorators
❀ those, who love to create their own accessories as a hobby
©  You are welcome to use the patterns, techniques and ideas you learn during the course in your private life or professional career. However distribution and / or resale of any part of the video or published materials is not allowed under any circumstances and it is considered illegal and a copyright infringement.
Should you have any questions, please do not hesitate to get in touch with us at enquiries@presentperfectcreations.com
PLEASE NOTE: NO MATERIALS are included in the price. The price you pay is for a video tutorial. There is no charge for postage.
ATTENTION OUR EU CUSTOMERS: Since January 1st 2015, all digital goods (including electronic, telecommunications, software, ebook and broadcast services) sold across EU borders have been liable under EU law to EU VAT charged in the country of purchase, at the VAT rate in that country. The price for this product is displayed exclusive of VAT.  The final price including VAT of your country will be recalculated accordingly and shown on checkout.
You can follow me on Instagram here.