Description
A cut of prestiffened heavy weight rayon satin fabric with golden/ silver / pearl metallic thread ready to be used in flower making. It is perfect for the foliage, butterfly wings, fantasy flower petals etc.
The fabric is rather rigid and not see through. It has the right and the wrong sides which both can be used to achieve different effects and textures.
Can be used as a heady backing fabric to back leather parts (see our Leather Maple Leaf Tutorial).
Lame satin in 3 colour variations is Ideal for festive season and fantasy flower pieces. Can be tinted (lightly dyed) with silk dyes to better match the colours of your project but keep the shine.
Try using it for your rose leaves to add a sparkle or make a fantasy flower with this beautiful fabric. To back the lame satin use thin rayon backing fabric.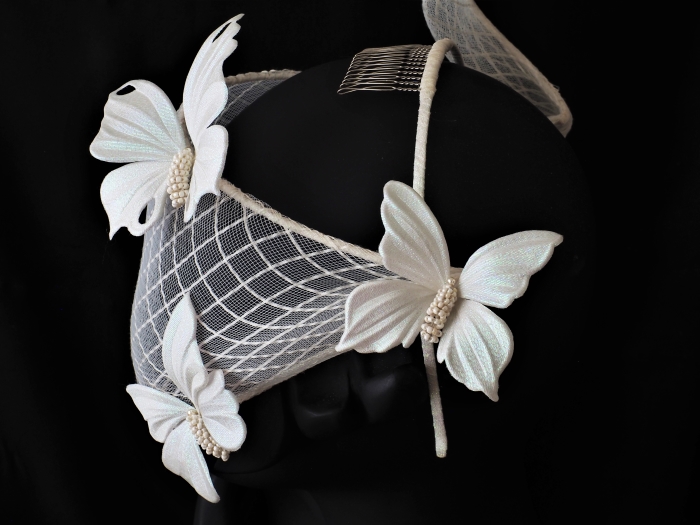 Colour:
❀ golden
❀ silver
❀ pearl
Size: approx. 45 cm*45 cm
Limited quantity available
Our Realistic Fabric Leaves tutorial will help you make perfect fabric leaves with a sparkle for your project.
This metallic satin fabric also works perfectly for butterfly wings (see the photo on the right). To make your own fabric butterflies refer to our deltailed Silk and Lace Butterfly Tutorial. 
Some flowers with fewer petals that do not require deep 3D shaping (thin hydrangea, orchids, chrysanthemums, gerberas etc) can also be made using this fabric.
More information about why, how and with what to back flower petals and leaves can be found in this blog post
Should you wish to purchase larger quantities of the fabric get in touch at enquiries@presentperfectcreations.com for a quote. 
Larger quantities of this fabric (1 meter+) can be ordered with a discount . Please get in touch with us at enquiries@presentperfectcreations.com regarding the availability and prices.