Now only lazy can ignore all the preparations for the coming Christmas: decorated shops, Chrtistmas cards everywhere, butchers taking order for Christmas turkeys etc.
Despite Remembrance poppies,a couple of craft fairs and some orders I need to work on Christmas designs have not been forgotten. So far I have tried two iconic Christmas plants which are holly and poinsettia. And yes there is a way of making fur trees out of velvet but I am not just sure I will have time to try it ☺ It looks a very time-consuming adventure!
I created
poinsettia
 out of pure silk satin which I hand painted in rich reds and hot pinks. The flower is rather big (about 15 cm across) and is finished with a brooch base.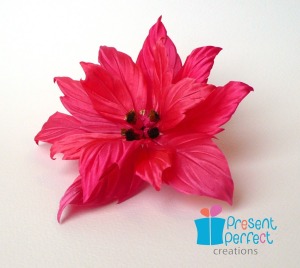 For the holly corsage I used cotton poplin in dark green and some hand painted pure silk satin for the little berries. The brooch looks very sweet and immediately reminds you of Christmas!
I am thinking about making other fantasy flowers which can decorate festive outfits at parties and corporate celebrations. Should stock on beads and feathers then! 🙂