Yay! You've heard that right.
A couple of days ago I finally received a couple of copies of a Japanese publication where my flower pieces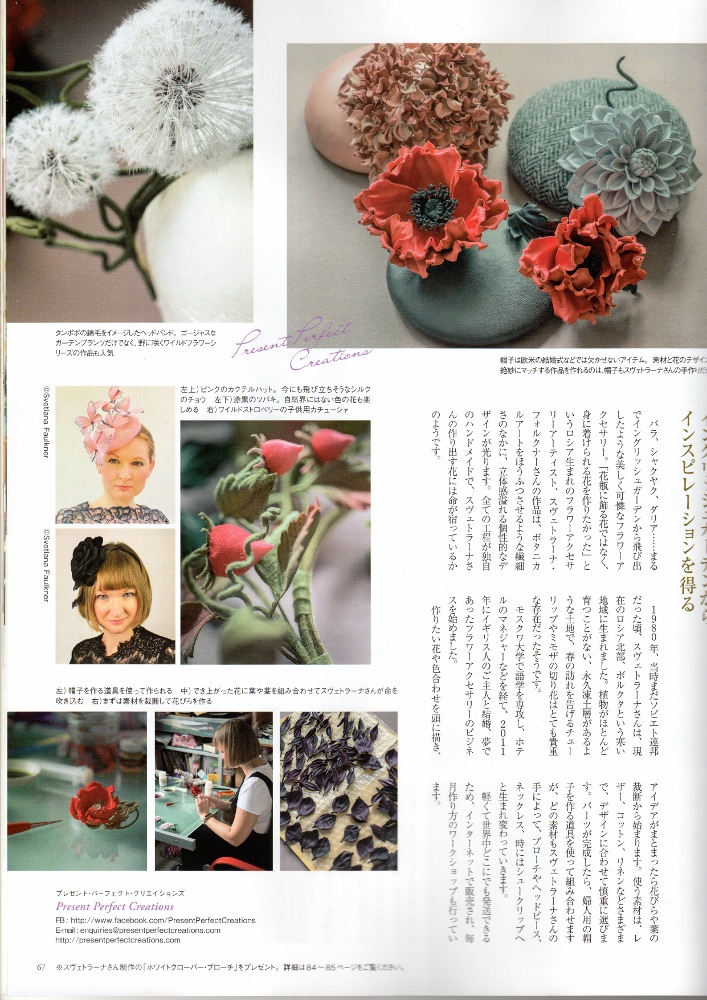 have been given a 2 page feature.
The feature on PresentPerfect Creations appeared in the latest issue of a Japanese floristry magazine called Flower Fashion, vol.10
http://www.nfd.or.jp/hana-fashion
.
This issue is devoted to artificial flowers, so my pieces are just the right fit for it.
There are a number of Japanese artists who make artificial flowers too. What's attracted the editor in chief in my work in particular is that the flower pieces that I create are perfectly wearable. You see, traditionally in Japan sophisticated handmade flowers have been created for flower arrangements to decorate houses, offices etc. Wearable flower accessories including hats and fascinators are not widespread but are currently gaining popularity.
What's more is that one of my pieces, the White Clover Brooch, is amongst the readers' presents of the magazine. That's one more of my works to go to Japan.
Knowing how good the Japanese are in a huge variety of different crafts, how meticulous and attentive to every minute detail, I am feeling rather flattered by the fact that my work has been selected for the feature. If you'd like to have a better look at the pages with the feature on PresentPerfect Creations please press the button below.

As before, I am ready to share my knowledge, vision and expertise with you, be it via my downloadable tutorials or in-person workshops. If you wish to attend an in-person flower making workshop, you will find the current schedule below