Variety is the spice of life.
I am sure you've heard this expression before. Luckily, there are so many different flowers in the world, there's no problem with the variety here.
But what when it comes to finishes of our handmade flowers? What can they be turned into to become wearable accessories? Do we have a variety here? Let's have a closer look.
Brooch is the first one that comes to mind probably. Indeed, brooches are very popular. So are flower corsages as well as buttonholes.
Over the years I have released a number of tutorials which cover this type of finish. Some of the popular ones are listed below:
Hair accessories with flowers are ever so popular. They include but are not limited to headbands, hair clips, hair combs and flower circlets (see below).
Moreover, most, if not all handmade flowers can be used for hat and fascinator trims.
Making silk and leather flowers into necklaces and chokers is another great idea. Depending on your choice of flowers, colours and material you can get anything from a delicate bridal necklace to a bold statement leather piece.
Flower shoe clips is yet another, possibly less obvious but nonetheless very effective way of using handmade flowers (see the tutorials below):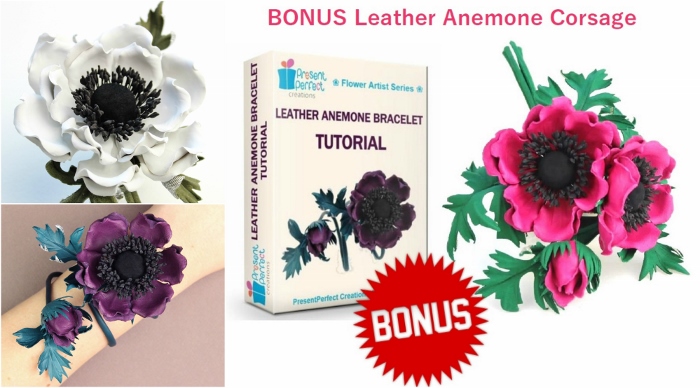 In my tutorials I have also covered a flower bracelet.
However, handmade flower applications are not limited to the ones mentioned above.
You can also try making flower earrings, flower bow tie brooches (for shirts and blouses), hair wreaths, flower sashes, flower rings and flower stick pins, as well as other wearable flower pieces (I bet I have not listed them all).
Feel free to experiment and share the results of your trials. I am sure there are still a lot of new ideas to be discovered and tested in flower making.
❀ ❀