I mentioned before that I am collecting Japanese silk flower making books. Although in many of them you can find some orchids, be it phalaenopsis or Lady's slipper orchid, one of those books is devoted solely to orchids, different orchids and nothing else, more than 20 varieties. One of the varieties, miltonia, has inspired me to create a bridal piece for my Blanc de Blancs collection. These striking orchids, which are also known as pansy orchids, are characterised by pointy petals and sepals and an often oversized lip.
Here is the photo or some real miltonias: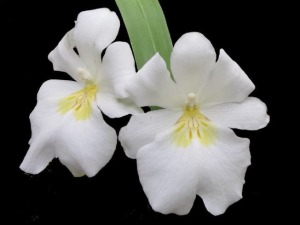 Being inspired by their unusual shape I created a bridal headband with velvet miltonias.
This designer headdress with 3 orchids made of off-white velvet perfectly completes the look of any discerning bride. Because it has a vintage flair to it the orchid headband is ideal for vintage-themed weddings.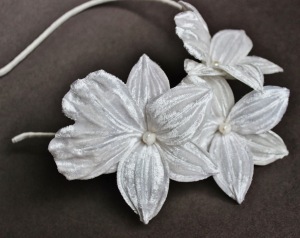 I used some of the finest materials to create this bridal piece of headwear: silk and viscose velvet, silk organza, silk dupioni, silk pongee and freshwater pearls.
This white headband is ready to ship but a similar one in other colours can be made to order to match your outfit or a wedding theme.
There are many more different orchids to try and recreate in fabric or leather and no doubt I will be doing that shortly. My next favourite is Lady's slipper orchid. Do you have any ideas what kind of accessory this impressive and unusual flower can be turned into?