I am continuing my experiments with genuine leather, this rich and pliable material, great for making floral accessories.
As a part of my new capsule collection I have created 2 leather roses, different in size and shape.
The new collection called
NATURALS
will comprise of a range of accessories made using natural materials in natural colours and hues.
So the new roses (both corsages) are created using beige leather and tan suede. They make an essential wardrobe addition for any girl who prefers natural fabrics such as linen, cotton, raw silk, as well as straw and genuine leather and suede in light colours.
The small closed rose is about 5 cm in diameter. It is finished with a brooch pin.
The large open rose is complemented with tan-coloured leaves made of genuine suede.
It is finished with a brooch pin as well as the small one.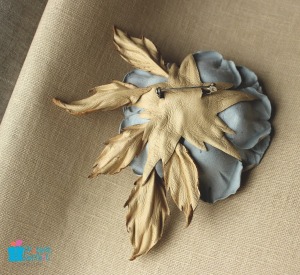 These unique leather corsages will make a lovely gift for your Mum, sister or a girlfriend. They are available from my Etsy shop.
If you are interested in learning how to make leather flowers or in purchasing a .pdf tutorial on leather flowers, please feel free to contact me via this blog, my Etsy store or e-mail me at svetlana.faulkner@gmail.com.