Recently I have created a number of butterflies in silk and lace; in fact, too many. To justify it I can say that I was just fulfilling a constant stream of orders for these beautiful creatures. And here is the last piece: a butterfly trio headdress in turquoise and mint hues
This butterfly headband will perfectly complement a summer outfit in similar hues. It is ideal for a turquoise-themed wedding too, either to be worn by a bride or bridesmaids.
I used satin, organza, pongee (all pure silk) and floral lace which I painted by hand as well as beads and seed beads in complementing colours. The thin metallic headband is wrapped with a strip of pure hand painted silk.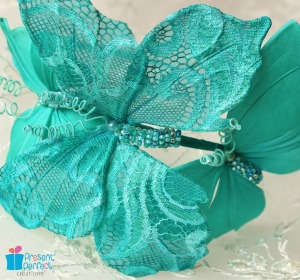 This bright piece of headwear is available from my Etsy shop.
But it is not my first triple butterfly headband. Previously I made a similar headdress in shades of purple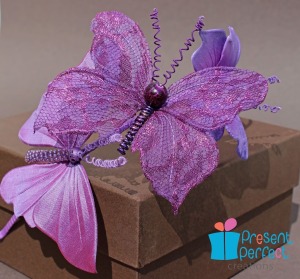 and a white lace butterfly wedding headband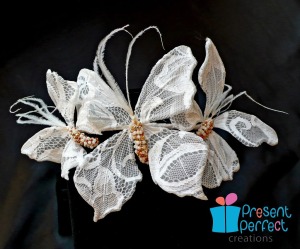 If you are willing to try and make a similar butterfly headband yourself you might want to purchase my .pdf tutorial on a lace butterfly made WITHOUT any special tools which is available from my Etsy shop. With more than 50 pictures explaining in detail the whole process of creating your own designer accessory, this 47 page .pdf ebookwill teach you how to create a delicate lace butterfly to be used in accessories, as wedding decorations, in millinery and much more. I have included the pattern too.
If you have any questions please feel free to comment below.