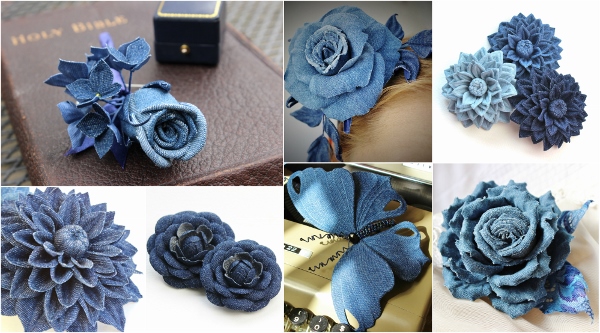 Themed weddings are becoming more and more popular every year as couples do their best to create a special and unique day, memorable for themselves, their families and friends.
A denim themed wedding creates a relaxed atmosphere as the guests are expected to wear either denim skirts or jeans for the celebration. With the bride and groom wearing traditional outfits makes them stand out but at the same time calls for the appropriate  denim accessories to complete the theme.
One can be very original and inventive when it comes to denim accessories. Thanks to its nature, denim fabric can be used for making flowers employing the same techniques as those used for the silk ones. The denim fabric is denser than silk but once treated it holds the shape well. I find it ideal for simple flowers with clean lines like these camellias of geometric dahlias
Thinner, lighter denim fabrics can be used for flowers with a lot of petals like roses
​
Brooches and pins can be used to decorate a groom's lapel or a bridal dress. For the hairdo floral hair clips and pieces can be created using denim. And with a little bit of effort and lots of imagination some stunning denim fascinators can be crafted for the bridal party ☺
Have you tried making flowers with denim? If not, give it a go and you'll be pleased how great they look. Wear one and get all the compliments!