For 2019 I have planned a series of short videos demonstrating how to works with different types of flower tools.
I believe this will help you understand your tools better and use them to their full potential achieving great shapes and lines on your petals and leaves.
This is the third video in the series, for which I have chosen a very familiar flower shaping tool, or, in fact tools: ball tools.
I wouldn't be far off, if I said that a round or a ball tool was one of the first tools invented for shaping flowers. Lots of petals have a concave shape, so a tool like that was really necessary in flower making.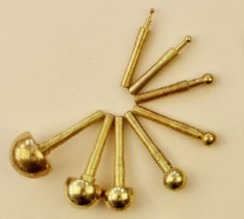 As a rule each set has several balls of different diameter ranging from 2mm to 30mm.
If you wish, you could find ball tools even larger than 30 mm for shaping oversized flowers.
Ball tools are widely used for shaping rose petals and work well with both soft and medium pads.
In skillful hands a simple ball tool can produce incredible and very different results.
Some of which I am showing in the video below, where I am shaping 4 rose petals in 4 different ways to achieve different effect and therefore a differently shaped flower.
The more different roses (as well as other flowers) you learn to make, the better you become at using your ball tools.
In my
Advanced Silk Rose video course
(book now to take part in September 2019) we'cover conventional and less so ordinary use of the ball tools when shaping our roses. So if this subject is of interest to you, you have some experience in flower making and would like to improve your skills you are welcome to join the course
here
.
Meanwhile watch the video I have prepared for you today (see the link below) where I am demonstrating less so ordinary ways of using these familiar tools and (hopefully) discover something new for yourself
.