For 2019 I have planned a series of short videos demonstrating how to works with different types of flower tools.
I believe this will help you understand your tools better and use them to their full potential achieving great shapes and lines on your petals and leaves.
This is the forth video in the series, for which I have chosen another popular tool that can probably be found in any set, traditional or more modern: a knife tool, the sharpest tool in the flower making set.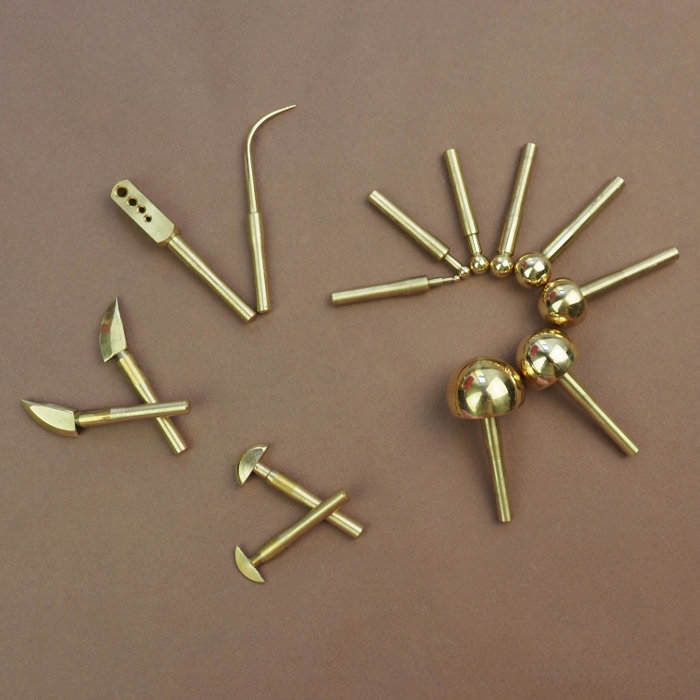 To be more precise I am demonstrating how to work with both, the single blade knife tool and the double knife tool that has got a groove.
Both of these tools can be used for shaping a wide variety of leaves as well as flower petals. I regularly use the knife tool to shape fabric butterfly wings, too.  In other words, anywhere where you could do with some veining or lines to add texture, shape and interest, you can use your knife tools on fabric as well as leather.
Normally knife type tools are used with medium pads  as shown in the video.
In skillful hands a simple knife tool can produce a range of different effects, some of which I am showing in today's video, where I am shaping a flannelette poppy leaf, a velveteen lily petal and a golden lame satin butterfly wing, all of which are made with different fabrics.
The more different flowers you learn to make, the better you become at using your knife tools. I think I would  probably not be wrong if I say that the knife tool features in most of our tutorials, which shows how indispensable it really is for a flower maker.
Currently the single blade and double blade knife tools can be purchased as part of the 
14 pc European set of tools
 or the more extensive 
22 pc set of tools
 (use the links at the end of the email to find out more about each set).
In case if you believe you could benefit from a hands-on one-to-one workshop to improve your flower shaping and flower making skills you are welcome to book one of our workshops (see the schedule 
here
).
Meanwhile watch the video I have prepared for you today (see the link below) where I am demonstrating several ways of using these well-known tools and (hopefully) discover something new for yourself.