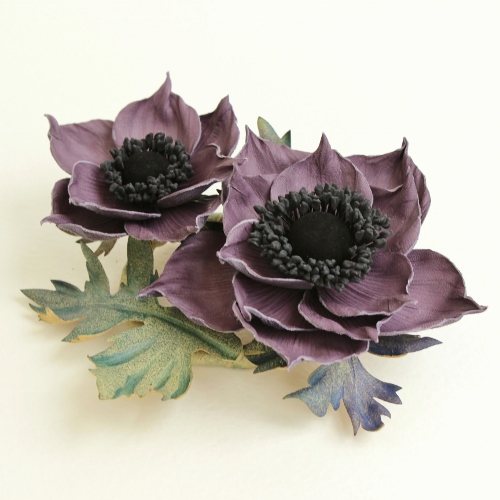 First time leather anemones were featured in my #FlowerBreeze collection back in SS2016. A firm garden favourite, they deserved a detailed tutorial of their own which I am happy to present you with
.
One of the earliest spring flowers, anemones are a bright uplifting sight after the dark days of winter – pure, simply pretty and cheerful.
Now with the help of this tutorial you can learn how to create your own anemone bracelet, corsage, buttonhole or another floral accessory with these vibrant blooms in the sizes and colours of your choice.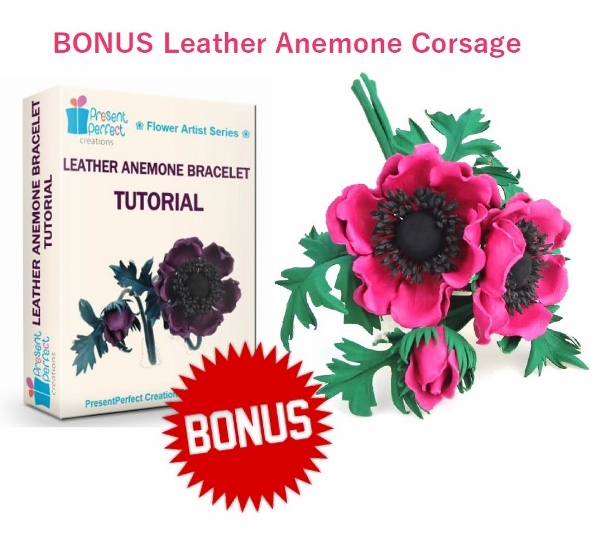 For this tutorial I have changed the template and the methods to come up with an improved flower that is charming but not too difficult to make.
As most of my flowers, leather anemone flower can easily be turned into a variety of wearable accessories and trims. The tutorial shows how to make a leather anemone wrap around bracelet. You can turn your leather anemone into a hat trim, a groom's buttonhole, a headband or a corsage (see the information on the BONUS below) and more.
Straightforward and detailed enough even for a leather flower newbie, this tutorial contains tips that experienced flower artists will find interesting as well.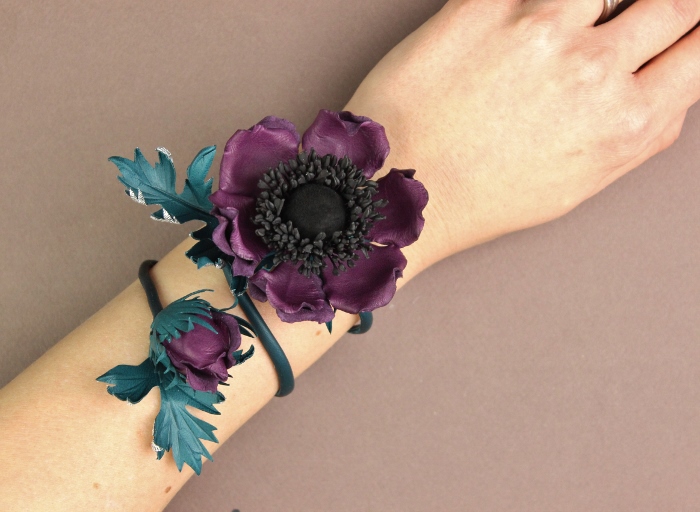 The striking centre and the serrated foliage of the leather anemone look really attractive and can be achieved with minimum tools although some patience and practice are required.
But I could not just stop at the anemone bracelet tutorial. So I have prepared a bonus anemone tutorial in addition to the main one. It costs nothing but your review on the main Leather Anemone Tutorial.
Using the explanations provided in the BONUS tutorial you will be able to assemble a larger anemone corsage arrangement with a large, a medium flower and a bud (see the photo to the left). You will learn how to attach leaves in a different way and see how suede wor
k
s in leather designs . It contains tips on how to make a double anemone for a more compact flower brooch or a buttonhole.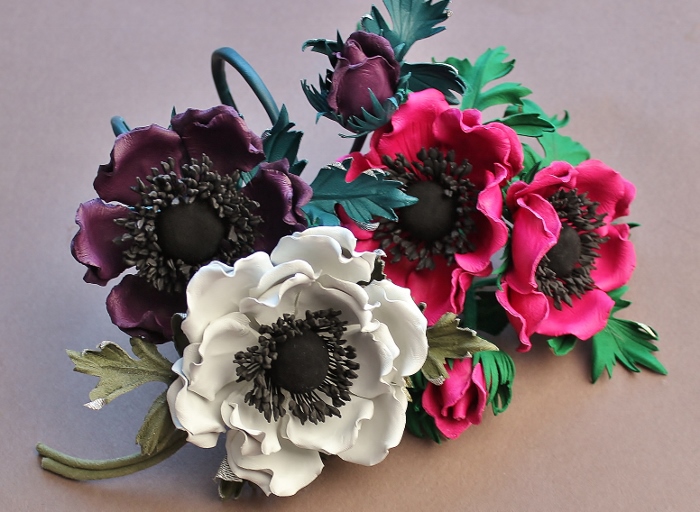 So, if you'd like to learn how to make these bright spring blooms and create a variety of accessories with them use this opprtunity to purchase  the tutorial now whilst it is being offered at a special tutorial-of-the-month price
(the offer is valid till 28 February 2019)
❀ ❀ ❀ ❀ ❀ ❀ ❀ ❀ ❀ ❀ ❀ ❀ ❀ ❀ ❀ ❀ ❀ ❀ ❀ ❀ ❀ ❀ ❀ ❀ ❀ ❀ ❀ ❀ ❀ ❀ ❀ ❀ ❀ ❀ ❀ ❀ ❀ ❀ ❀ ❀ ❀ ❀ ❀ ❀ ❀ ❀ ❀ ❀ 
As the flower of the month you can now purchase
the leather anemone tutorial + BONUS
as well as
the DIY kit
with a discount (15% OFF). All discounts have already been applied on the website until 28 February 2019. Please click on the photos below to find out more and purchase.
In case if you are lucky enough to already own this tutorial but somehow you have not come round to actually making the anemonies now is the time!