I created this spring green crown with the silk dandleion for the 2019 Hatalk hat making competition, where the theme was Equilibrium.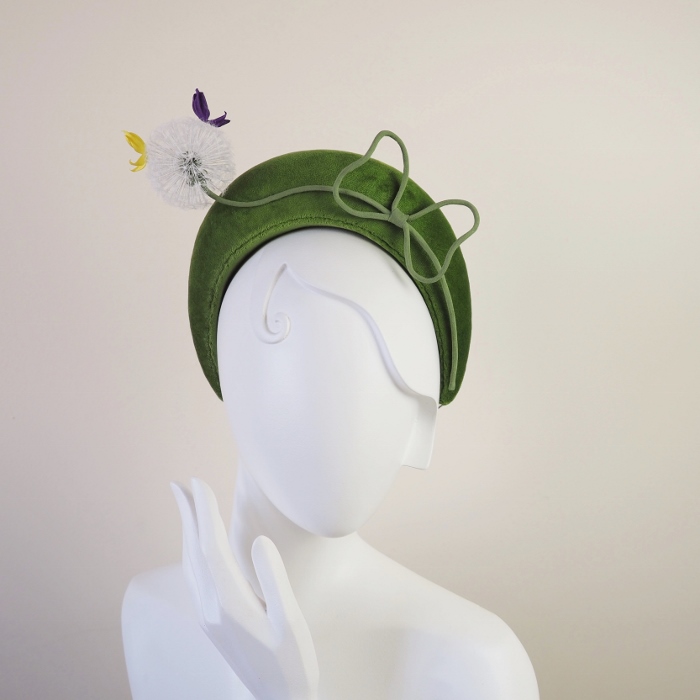 My Tethered Butterfly Crown for a millinery competition: the why
"The butterfly is a flying flower,
The flower a tethered butterfly."
― Ponce Denis Écouchard Le Brun
Nature is an endless source of inspiration for me. Its colours, shapes and textures seem to be in a constant contradiction yet represent a peaceful harmony of its parts.
For my headpiece trim I have chosen two very fragile representatives of the natural world: a delicate dandelion clock and a couple of dainty airy butterflies – and arranged them in a perfect balance. The complementary colours of the butterflies – yellow and purple – ofter occur in nature where they work well and make strong compositions. This is another example of how opposites attract and create a perfect equilibrium.
My Tethered Butterfly Crown for a millinery competition: the how
To make the silk dandelion headpiece I blocked the crown in 2 parts using buckram. Then I covered both parts with green cotton velvet (which I've found very fiddly)
As the dandelion is very fragile, I had to sew in the handdyed fabric covered stem folded into a bow at this stage, before joining the parts of the crown together.
Once that was done I joined the 2 parts of the crown together adding the millinery elasctic at the same time.
The next stage was to make the dandelion clock itself and add the butterflies.  The dandleion on the crown is about 6 cm in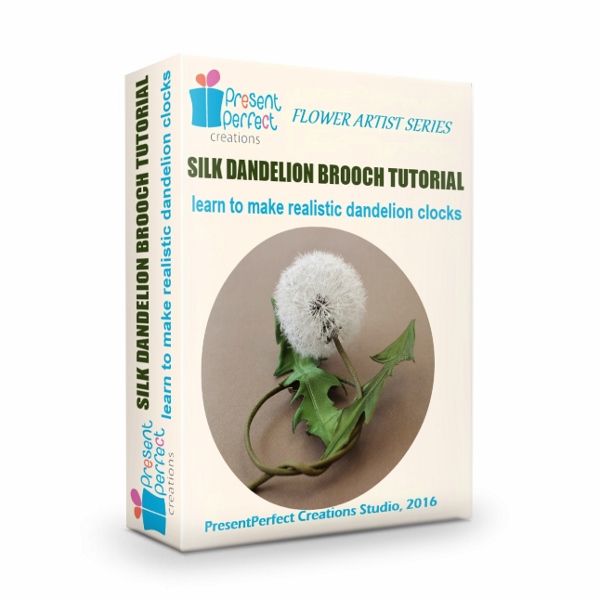 diameter and has about 200 organza parachutes which were all needed to be made separately. The 2 little btterflies were made using handdyed silk satin in contrasting yellow and purple colours.
Counterintuitively assembling the dandelion clock with the silk butterflies had to be the last stage of the headpiece making. If you have been  inspired by the pieces of textile art and would like to create your own silk dandelions for jewellery, millinery and other craft projects, you are welcome to get my step-by-step tutorial on Silk Dandelion Clock available here.
My Tethered Butterfly Crown for a millinery competition: the result
And there we have it, a silk dandelion clock with dainty butterflies that seem to have just landed onto it in a whimsical dance as a perfectly balanced headpiece ready to be worn and enjoyed.
WATCH THIS SPACE: still waiting for the results of the competition… If you would like, you could vote for my silk dandelion headpiece here