Few hours are left before the end of this year and this is the time to congratulate you my dear subscribers with the New Year 2015!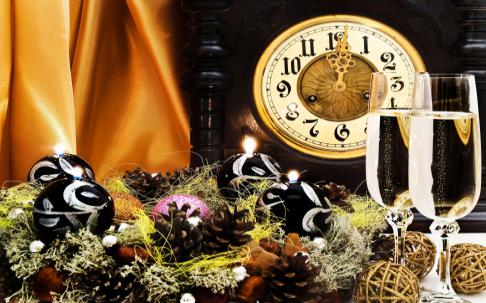 We have been very busy and productive this year at PresentPerfect Creations, we have accomplished a lot but we are planning to do even more in the coming year of 2015.
We took part in a number of contests of different levels, both art flower and millinery ones and were awarded in some of them.
More than 30 floral pieces by PresentPerfect Creations studio have been donated to good causes, we also held a Charity Sale in support of Ukrainian refugee children all the proceeds of which have gone onto purchasing some school necessities for kids in Ukraine.
More than 100 orders (including 2 large ones for silk leaves required to restore beautiful antique timepieces) have been taken, completed and despatched to all corners of the globe from Canada to Australia.
In 2014 we sold most pieces to our customers in the USA, Russia and the UK. About a third of all orders were placed for leather flowers.
The launch of our website www.presentperfectcreations.com in November was a very exciting event for us. More products and tutorials will be added to it but even now you are welcome to place your orders, read the blog and leave comments.
We have publicised a new tutorial on a leather gerbera flower, and in the coming year we are planning to issue new tutorials on both leather and silk flowers on a regular basis.
We are full of plans, ideas, projects and thoughts to be fulfilled in 2015. And we hope that you as well are looking forward to new and interesting things with optimism and impatience.
May the coming year be full of joy and laughter, pleasant surprises and new acquaintances for you. Spend more time with the people who are dear to you and remember that the Universe has good things in abundance for us, in fact anything we ever want and need.
We would like to thank you for being with us in 2014 and are looking forward to 2015 together with you!
And now to the New Wonderful 2015!!! It is time I had a glass of bubbly too 😀