Textile is a very versatile and pliable material and since there so many different varieties of textile one can say that there's got to be a fabric for any job imaginable. When we make flowers we choose nice lightweight and medium silk fabrics, shiny or matt, sometimes almost transparent depending on the flower we are creating.
But what if we want to make a … strawberry? What fabric to use to make the work look nice and the process easy and smooth? Probably something relatively thick? Like velvet?
This is what came out of my fabric berry experimenting: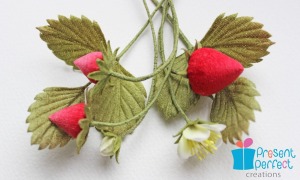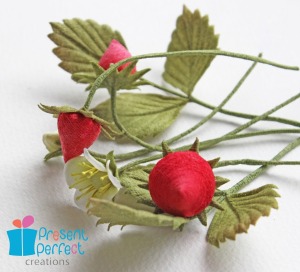 Materials: Japanese velvet, Japanese melton, satin, Japanese lining silk.
P.S. Whatever you see in the picture is a small unfinished interior arrangement. But I think that a little brooch with strawberries would look really cute!
How would you make use of these juicy berries?