Last time I was talking about how realistic silk roses can be. The pictures I shared showed the variety of form and colour one can achieve when making them. In this respect painting silk by hand comes in handy by allowing for the gradation of colour, which mimics flowers in the wild.
But who said that we have to be restricted by any limits and only create realistic flowers? No one.
Depending upon the project I often require a fantasy flower to complete it. For my fantasy flowers I frequently use precoloured fabrics such as the gorgeous Indian dupioni with its soft sheen, or satin silk, viscose velvet etc. I stiffen the chosen fabrics as I do the white ones (see one of the ways to do it
described in my post here
) and then use them to create fantasy blooms that can only be limited by the imagination.
Thus, for making black flowers I believe it is easier and better to simply use black silks rather then dye them by hand as it is almost impossible to achieve a really intense rich black colour.
I use lace, beads, feathers, freshwater pearls and other components to decorate my fantasy flowers and make them look more striking and spectacular.
For this large rose I used soft satin in golden sand colour which makes it a perfect accessory to go with any earthy-toned clothing, such as browns, yellows, oranges, yellowish green and ecru.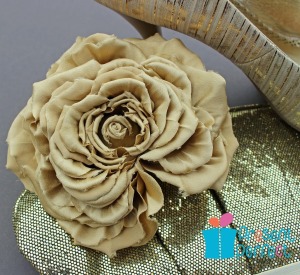 Golden satin rose
Unlike the warm golden rose this one is created using silvery coloured silk and is set amidst hand painted double organza leaves in mauve and grey hues. The organza I used is enriched with a silver lame thread.
For wedding floral pieces sometimes it is best to use pure white, cream or ivory silks. By combining fabrics with different textures I add interest and volume to these flowers.
Natural silks, lace, beads, ivory freshwater pearls… What can be more bridal? 🙂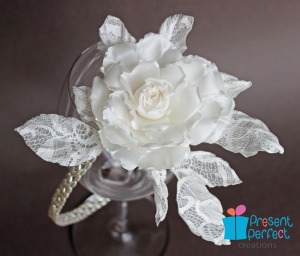 White rose halo
Should you have any questions or suggestions please feel free to share them in the comments below. I really appreciate your feedback.