For 2019 I have planned a series of short videos demonstrating how to works with different types of flower tools.
I believe this will help you understand your tools better and use them to their full potential achieving great shapes and lines on your petals and leaves.
This is the fifth video in the series, for which I have chosen an old and rather common tool that can be found in most sets, traditional or more modern: the so called rat tail tool aka the hook.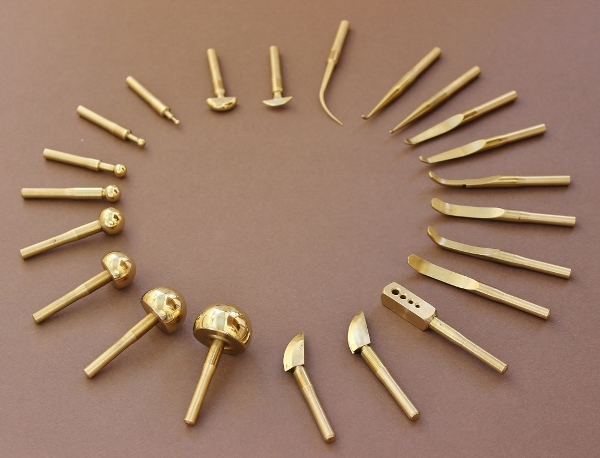 I am demonstrating how to work with the rat tail tool in the video where I am shaping a variety of petals, small and large. As a rule the rat tail tool is used together with other tools when shaping flower parts to achieve best possible results.
It can be used for shaping both leather as well as fabric flowers, you will see it in the video.
Normally the rat tail tool is used with medium pads as shown in the video.
In skillful hands this simple traditional tool can produce a range of different effects, a number of which I am showing in today's video, where I am shaping a fine cotton rose petal, a leather lily-of-the-valley flower and a leather dahlia petal circle.
The more different flowers you learn to make, the better you become at using your rat tail tool. You will find it particularly useful if you do not own any of the Japanese style cat paw type tools as it can be a kind of a substitute for them in some cases.
Currently the rat tail tool can be purchased as part of the 14 pc European set of tools or the more extensive 22 pc set of tools (check out the flower making tool section here).
Meanwhile watch the video I have prepared for you today (see the button below) where I am demonstrating several ways of using this traditional tool and (hopefully) discover something new for yourself.