New Leather Sunflower DIY kits just in time for summer.
Summer is in full swing and handmade sunflowers are all the rage right now. Silk or leather, these bright summer flowers look great anywhere from a beach to a wedding reception. Talking of which, one of my latest custom orders was a collection of sunflower brooches for a wedding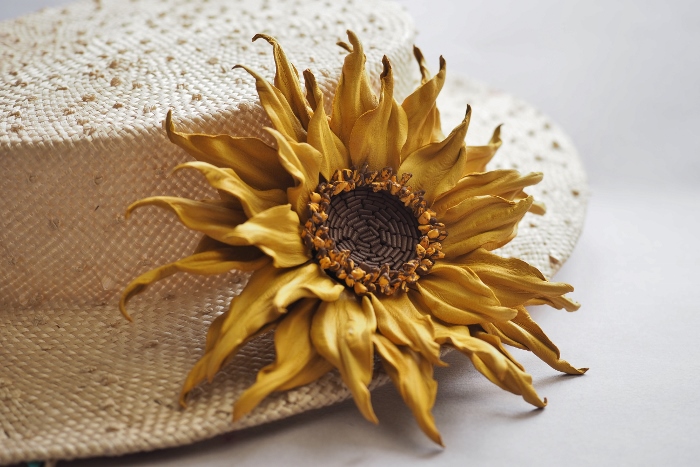 party in the New York area.
Leather sunflower is one of my earlier tutorials. Relevant today as it has ever been before the flower itself has experienced some transformations over the years. That's why I thought it would be a good idea to revisit the 
Leather Sunflower Tutorial
, revise it  and update it to enable you to create even better sunflowers.
As you remember the original 
Leather Sunflower Tutorial
was about making a headpiece. The new 25+ minute
BONUS VIDEO
I am offering today is focused more on a brooch version of this best selling flower.
I am demonstrating how to add stamens in a neat and efficient way and what to do to make them look even more attractive and realistic as well as other tips and tricks to help you achieve the best result possible.
⭐NEW⭐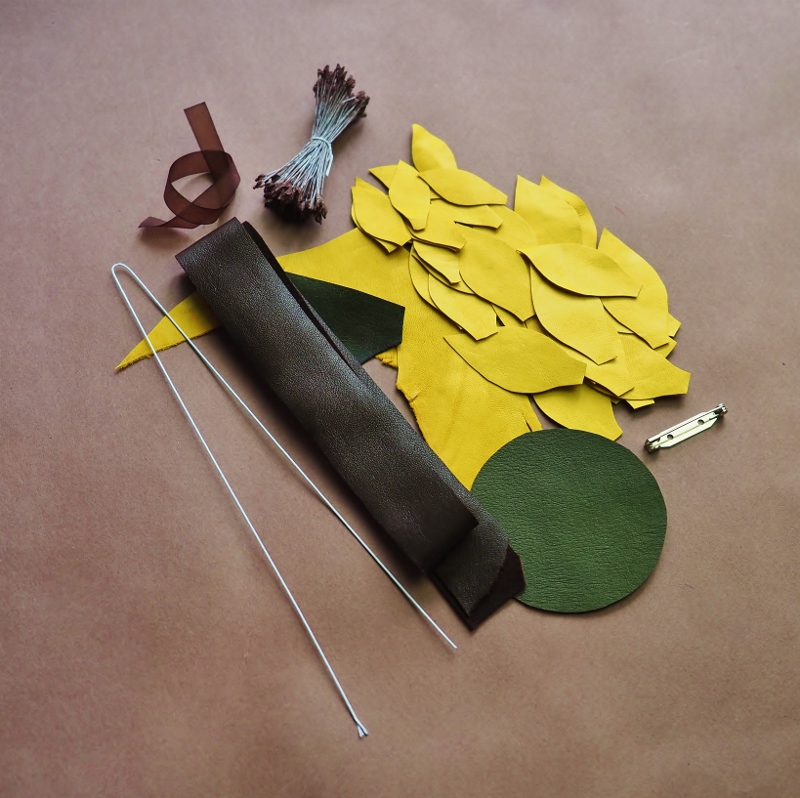 I have received a number of requests for
Leather Sunflower DIY kits
.  And for the first time ever I am happy to offer them in several finishes to go with this tutorial. They are available separately, so it is up to you whether to get them together with the 
Leather Sunflower Tutorial
or not.
With one of these kits you will be able to create a Leather Sunflower brooch about 12 cm in diameter with (or without) stame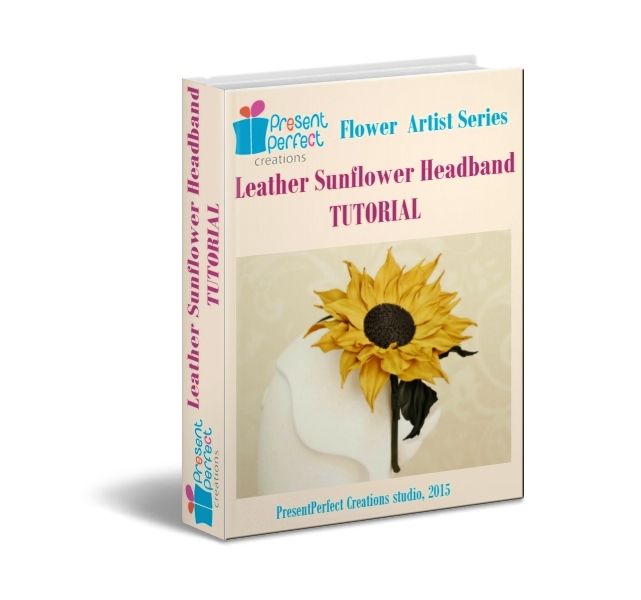 ns in the centre (as seen on a straw basket above).
Leather sunflowers are great not only for brooches or headpieces. Play with the scale of your templates and create smaller sunflowers for shoe clips or miniature stick pins etc.
The options are endless.
The striking centre, bright petals and a very recognisable look of the leather sunflower make it an ideal gift and a beautiful summer accessory.
This is a sort of flower where with minimum effort you achieve a great result and instant impact.
In case if you have not had a chance to purchase the Leather Sunflower Tutorial , you can do it now and receive access to the BONUS VIDEO. I can not recommend it enough as a beginner friendly flower.
If you are lucky enough to already own this tutorial but somehow you have not come round to actually making sunflowers now is the time! Treat yourself to one of the leather sunflower DIY kits in case you have been waiting for it ☺