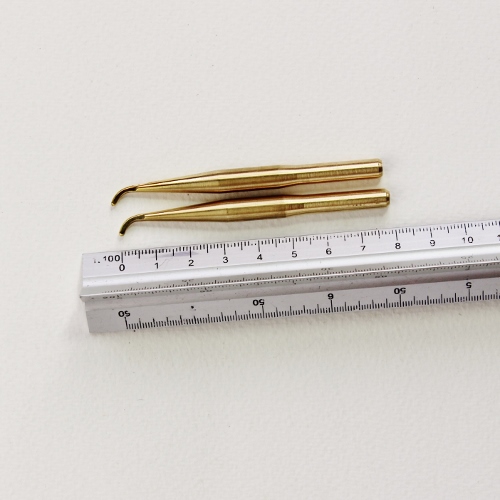 What tools for shaping leather flowers should you choose?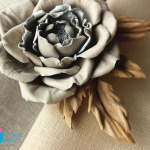 Now that we have chosen thin and soft leather for creating leather flowers it is time to talk about the right tools which are going to help us turn a flat piece of skin into a 3D floral masterpiece.
Tool number one is (believe me or not) our hands. A lot of shaping can be done with just hands. In fact, some flowers are made without any special tools. Different ways of folding, twisting, stretching and rolling leather give a wide range of special effects that allow us to create beautiful leather flowers.
Tool number two is a floral iron with interchangeable tips used for shaping fabric flowers. This tool can be used to almost the same extent with leather but bear in mind that leather can not withstand high temperatures. It can burn and shrink if the flower iron is too hot for it, so I recommend to always check the temperature of your iron on an off-cut before touching a petal or a leaf. I wrote about my set of tools in this post here, so if you have not seen it you might want to read it now.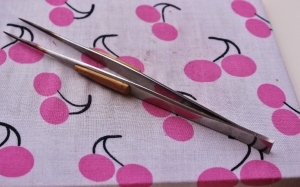 The third tool I would like to mention is a pair of tweezers like these ones in the picture. Tweezers are heated in the body of the flower iron and used for curling petals for roses, poppies and other flowers.
Leather petals might be quite stiff to the touch but the shape you are giving them will make them look light, airy, breathable and ever so live! I highly recommend to get yourselves a pair of tweezers like those. Humble as they look the role they play is very important and the results will impress you.
The work on the new leather tutorial is in full swing at the moment. Tomorrow I will reveal what flower can be created with the help of the tutorial, but if you are good at guessing here as a couple of photos for your inquisitive minds:
If you are interested in learning how to make fabric or leather flowers feel free to subscribe to our YouTube Channel for more flower making videos.