Free Wild Leather Violets Tutorial for beginners+
This is a fun free tutorial on stylised wild violet flowers made of genuine leather without the use of any specialist tools. The wild leather violet tutorial is suitable for all levels including complete beginners.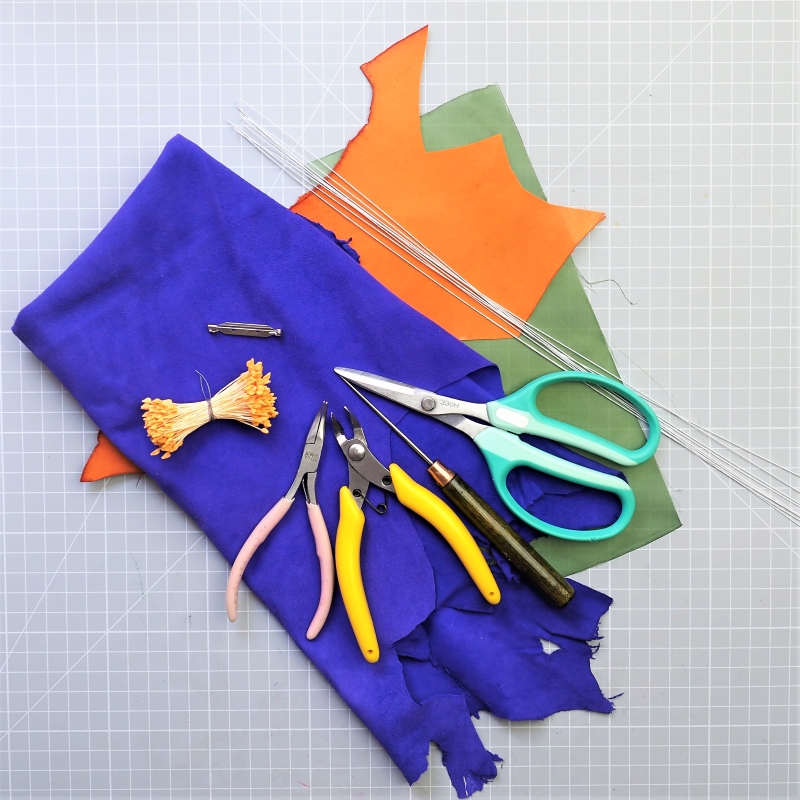 Other no tool beginner friendly flower making tutorials can be found here.
Here is a list of tools and supplies we will need for making our leather violets:
💜  thin genuine leather/ suede (lamb, goat, pig) in suitable colours
💜  contrasting leather for a butterfly (optional)
💜  lightweight silk fabric for stems (preferably stiffened)
💜  stamens
💜  wires (gauges #28 or #26)
💜  scissors
💜  wire cutters
💜  awl
💜  pliers
💜  thick tacky PVA glue for assembly + glue for stiffening
cotton cloth
💜  brooch pin (optional)
Use the button below to download your templates for this tutorial. In order to download them, you will be asked to subscribe to my Flower Makers' newsletter. It is free and you can unsubscribe any time if you wish to do so.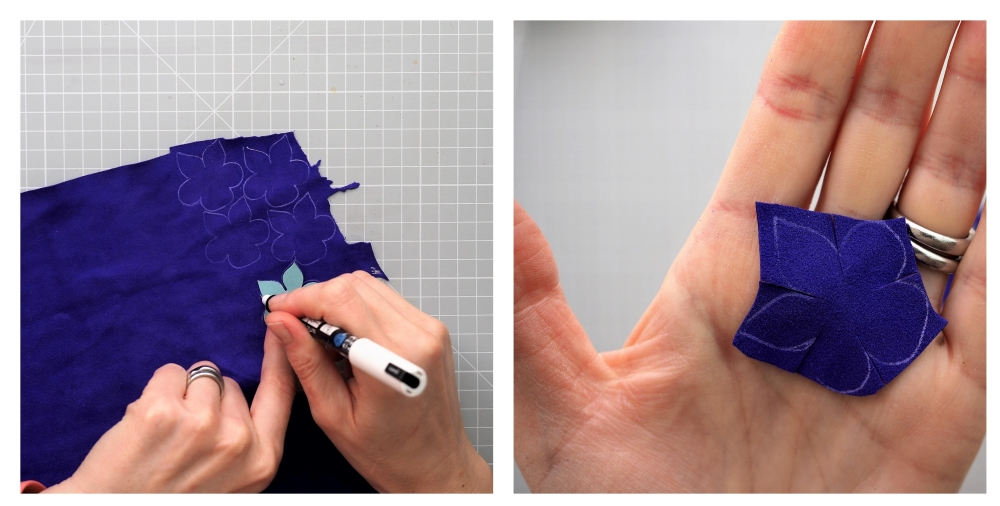 1. Using the template provided trace as many violet flowers as you need for your project. Here I am using 15-20 flowers. On darker coloured leathers it is helpful to use an acrylic pen in white or silver.
2. Once you have traced the flowers, cut the leather roughly to separate the flowers first. Using the dotted lines in the template as a guide make deeper cuts between the petals as shown in the photo. This will help with shaping later.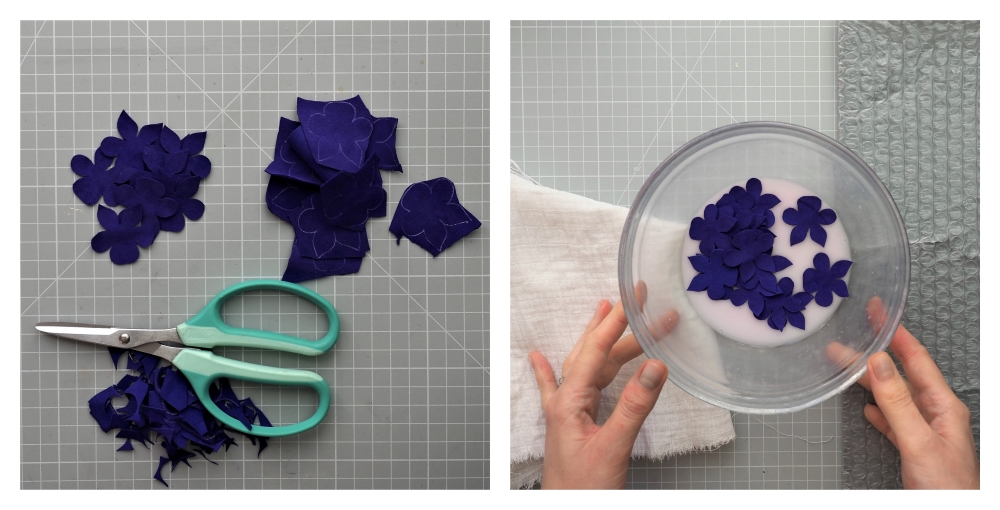 3. Next, cut all the flowers our neatly, making sure you have cut off all the pen markings.
4. Prepare the stiffening solution. If you have never done it, read this blog post on how to do it.  Place all the flowers into the stiffening solution and let them saturate well.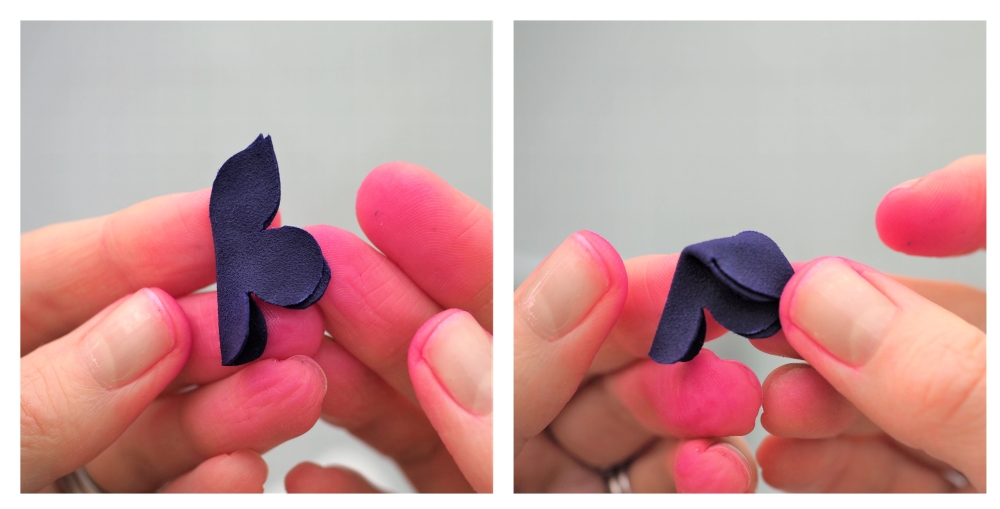 5. Once the leather flowers are completely soaked through, take them out of the solution and squeeze extra solution out so they are not dripping (excuse my pink fingers, the purple suede I am using has leaked some pink dye into the stiffening solution).
6. The flowers are going to be shaped by hand. Start shaping by folding each flower in half lengthwise. You will have 2 pairs of petals and one larger petal folded in half. Next, place one pair of petals on top of the other (see above).

7. Place the large folded petal on top of all other petals to form a small neat pile. Next, fold the pile in half. It will be fiddly as the petals are small. Try to do your best here.
8. Place the folded pile of petals into a cotton cloth and twist the flower carefully together with the cloth as shown. This way the flower will remember shaping better. Shape all the prepared flowers in this way.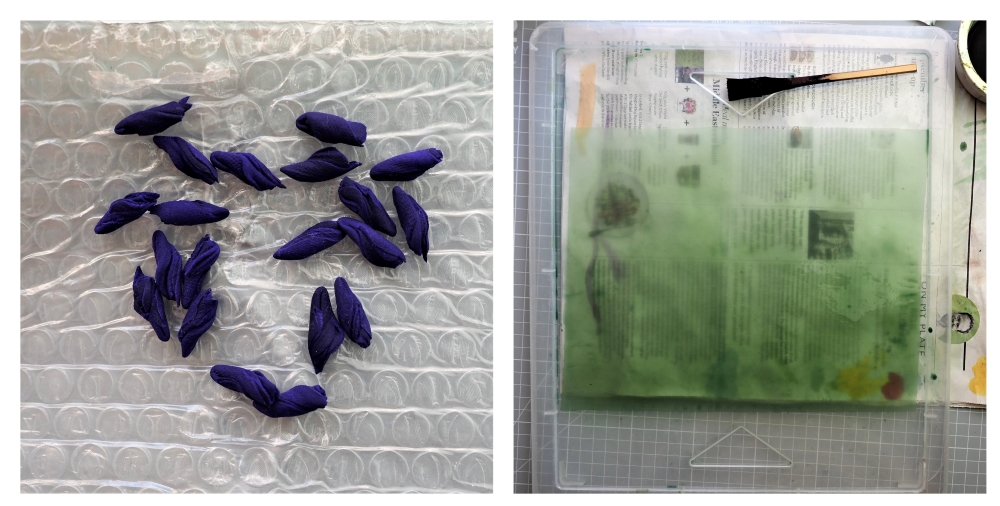 9. Leave the shaped violet flowers to semi dry for 1-2 hours.
10. Meanwhile prepare the lightweight silk for wrapping stems. I am using this thin rayon fabric which I have dyed green. If you have a thin green ribbon like this, it can work very well. I prefer my fabrics to be stiffened. Watch this video on how to stiffen your own fabrics.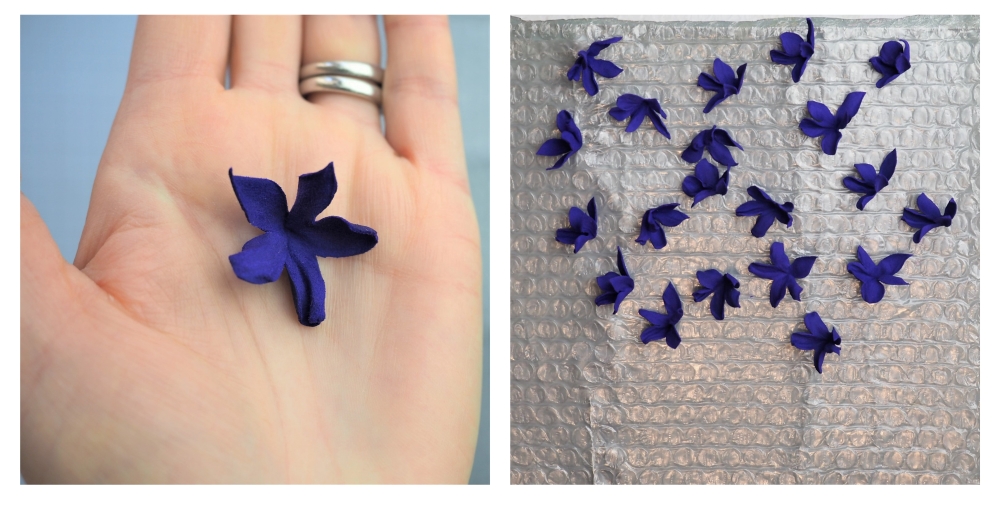 11. After 1-2 hours of drying carefully unravel each flower making sure you preserve the hand shaping you have meticulously created.
12. Open up all the flowers and leave to dry completely as shown above.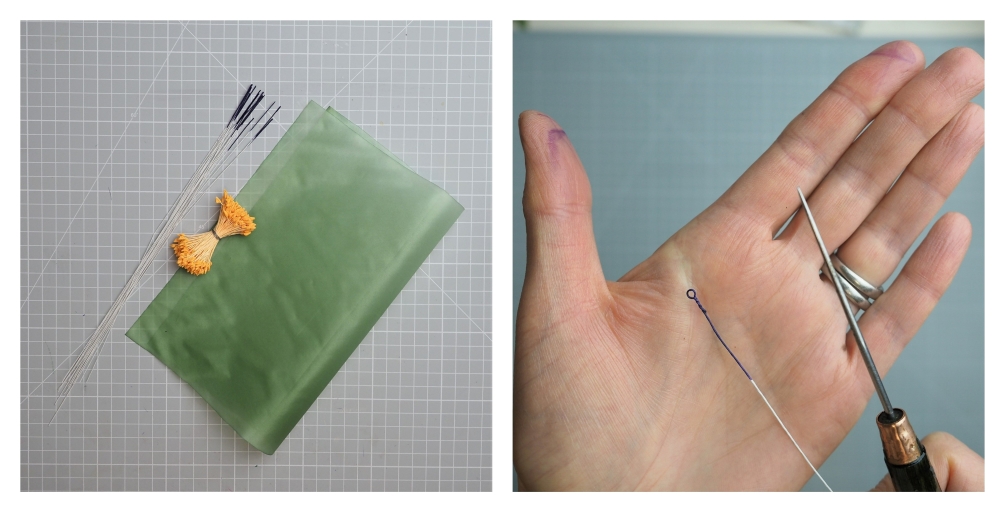 13. For the next step prepare the stamens, the green fabric and the wires. I have dyed the top parts of mine purple so they are not seen inside the flowers. My wires are about 20 cm long for this design.
14. This step is optional. To secure a wire inside each flower I like making a small loop at the top of the wire (see above). Use an awl to wrap the wire around and make a neat loop.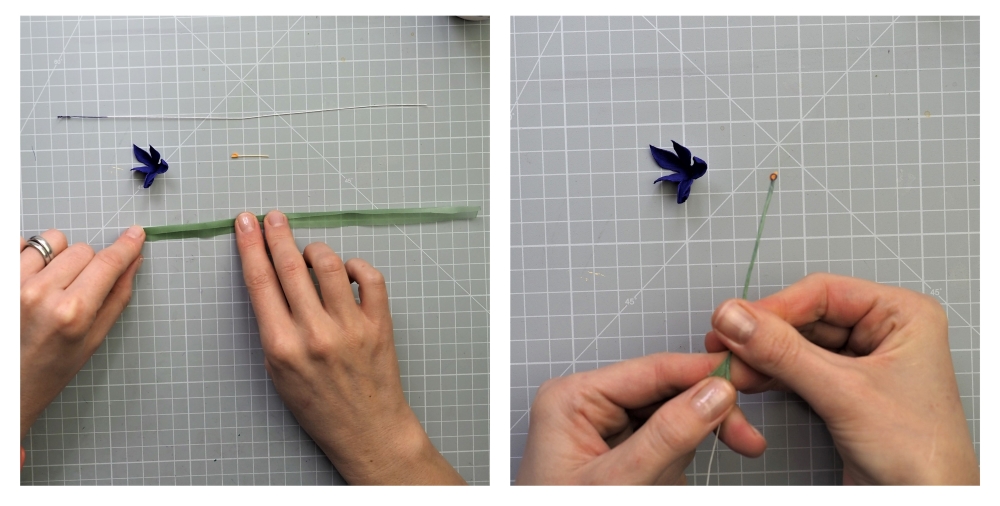 15.  To add a stamen to the wire and neatly cover the stem of each flower with silk, cut about 1 cm wire ribbon and fold in about 1/3 of its width (see above). By folding part of the ribbon like this you are stopping the edge from fraying, providing a neat finish to your stems.
16. Place a stamen next to the loop, add a little glue and start tightly wrapping them together wit the prepared folded in ribbon of thin silk at an angle as shown above.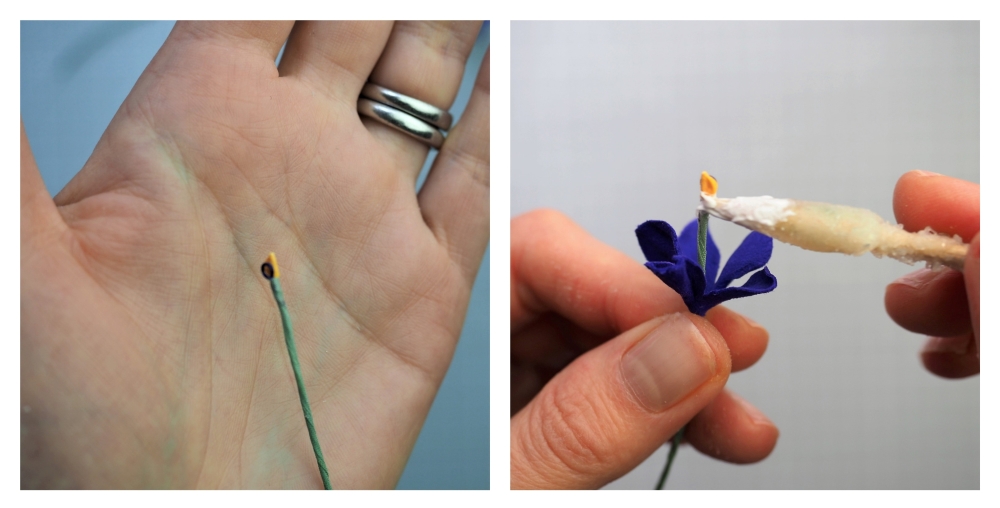 17. Stems are part of the design in my brooch so it is important to make them look nicely finished. Prepare the stems for all your violets in this way.
18. To wire the violet flowers make holes in the centre of each flower using the awl. Then thread a stem through the hole and add a dot of thick PVA glue just under the stamen (see the photo).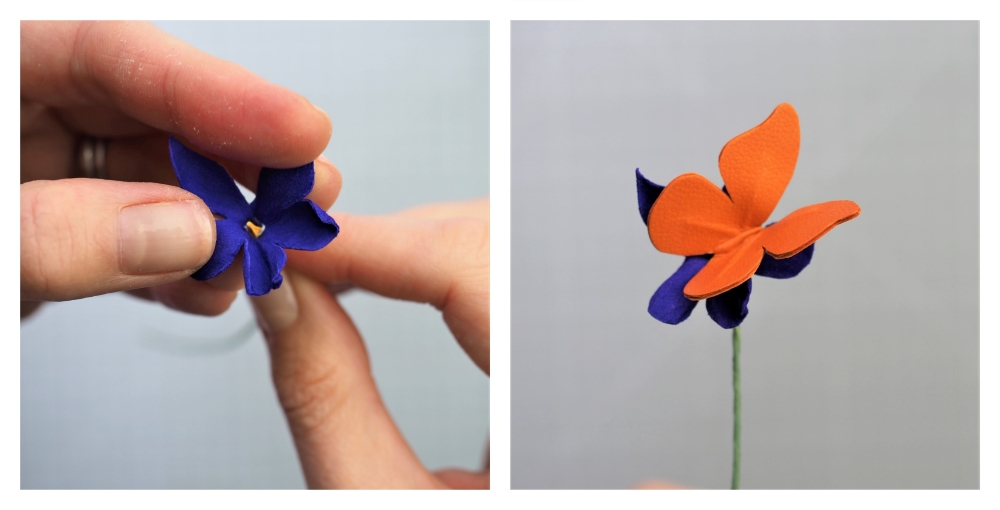 19. Carefully pull the stem down to make sure the stamen (and the loop) are glued deep inside the flower. If there is any excess glue remove it with the tip of your awl.
20. You can add a leather butterfly on one of the flowers if you wish. I am explaining in detail how to make small leather butterflies like this one in the Leather Hydrangea flower Tutorial.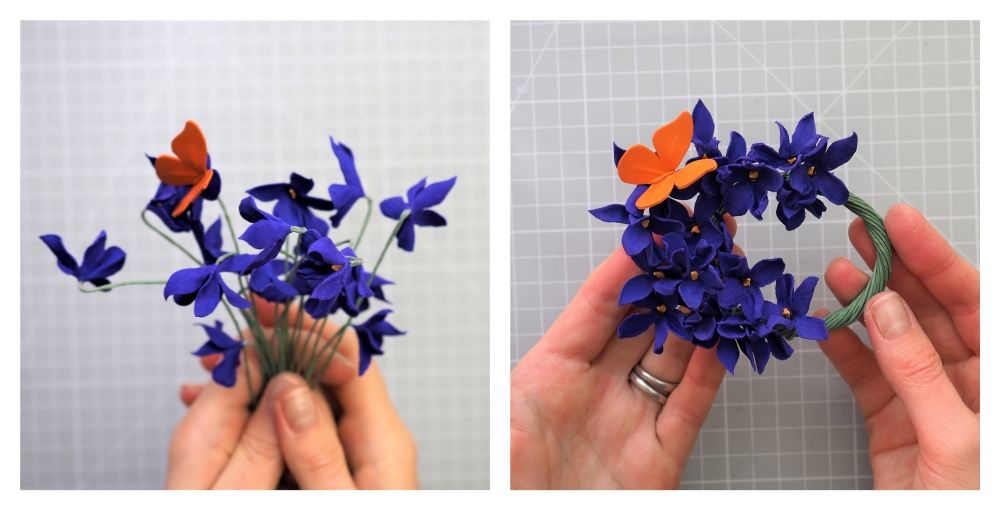 21. Wire all the prepared violets and give the glue the time to set.
22. You can make a number of designs with these flowers, on their own or adding them to larger leather blooms you already know how to make. I have arranged my violets into an oblong brooch by twisting their stems together.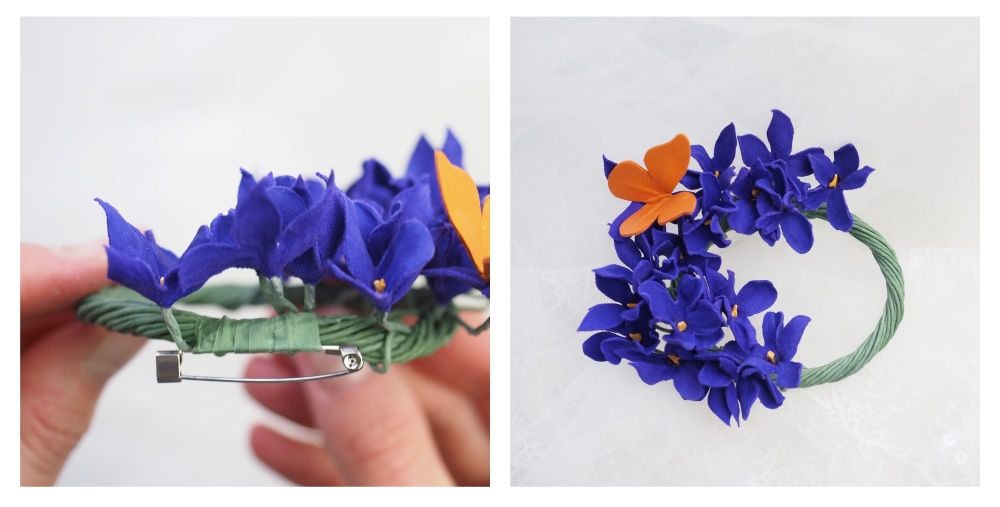 23. To make the piece wearable remember to add a brooch pin.
24. The Wild Leather Violet brooch is ready to wear 😊
These dainty flowers come in all shades of purple/ violet as well as pink and white. Experiment with the colour, size and finish and create pieces that are uniquely yours 💜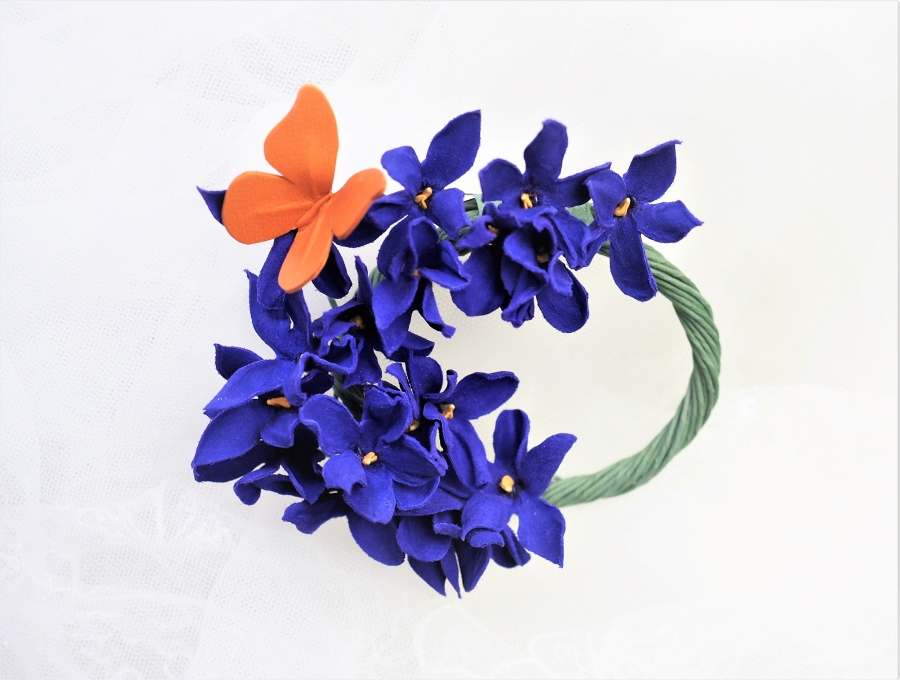 You can subscribe to my Youtube channel here.