New leather flower tutorial is out now
LEATHER GERBERA TUTORIAL IS AVAILABLE FOR DOWNLOAD NOW.
As promised yesterday I am sharing a link to the new leather flower tutorial.
To read more about it, see the materials and tools needed and purchase please go to https://presentperfectcreations.com/product/leather-gerbera-brooch-photo-tutorial-pdf/
This new tutorial is more than any previous ones full packed of pictures showing every step of the process, but should you have any questions or would like me to comment of the flower you have created using this tutorial I am here to help. You can always e-mail me at enquiries@presentperfectcreations.com. I would also like to hear if there are any particular flower tutorials you would be interested in. There are so many beautiful blooms in this world and they are all so different that it is virtually impossible to create all of them. But such all time favourites like roses and poppies are already on my list of tutorials to do.
Ah, and the last thing (but not the least)! To purchase your copy of tutorial with a 30% discount simply use gerbera30 discount code on checkout. But do remember that this is a time sensitive offer and it is valid only until midnight Sunday 14 December 2014 GMT.
I am sure that there is still plenty of time to make a couple of gerberas and present them as original and hand crafted Christmas gifts. Good luck to you! ☺
Here are the tools and materials that are required for this tutorial.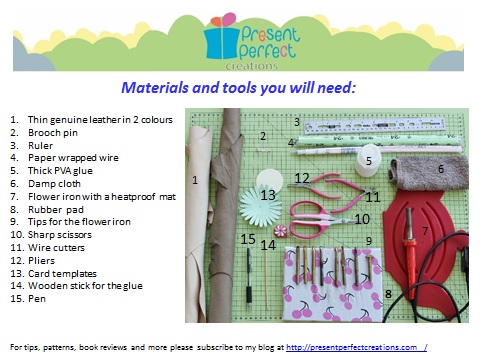 This is a choice of flower iron tips you can use in this tutorial. You will require JUST ONE of these, any that you have in your set. I am using the far left wide foot with 3 grooves.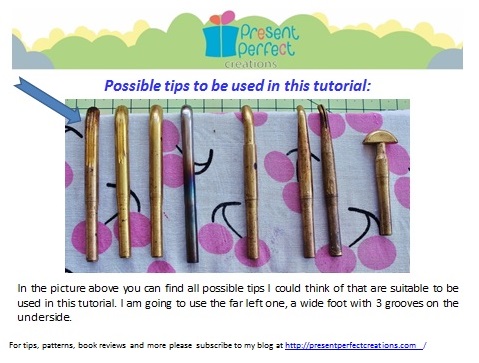 And finally, some pleasant news for you as subscribers of my blog. I am going to offer you a special introductory price on this tutorial till the end of this week (midnight on Sunday) so you will have a chance to make your own leather gerbera and pay 30% less for the tutorial.
Tomorrow I will send you a link for the tutorial at my online shop as well as a discount promo code for it.
I hope that you are as excited as I am waiting for the release. I have a lot of other ideas on tutorials on silk and leather flowers but your comments and preferences will be much appreciated, so if you want to ask or suggest something please do so by leaving a comment for me below.