NEW
Beginner friendly No Tool Denim Fower Video Course in partnership with Domestika is now available.
~~~~~~~~~~~~~~~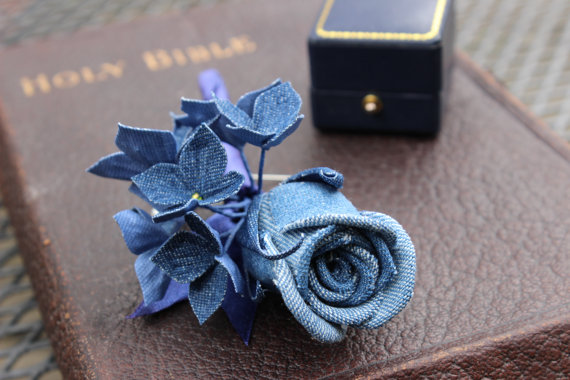 Denim Flowers: sustainable to make and fun to wear! 
At PresentPerfect Creations studio experiments never stop. I try and test different fabrics, colours, shaping and assembly methods to create unusual yet wearable designs.
One of the less traditional fabrics for flower making that has always attracted me (and my customers!) is cotton denim.

Robust enough for everyday wear, so familiar and loved by many it lends itself well to a variety of flower shapes, simplistic and more intricate alike. Add skilful shaping with tools, backing with metallic fabrics and you will receive a beautiful flower accessory perfectly suitable for casual wear and beyond. Feel free to upcycle your old garments for making any of these designs.
📌📌📌   For all my textile creations I use stiffened fabrics. You can stiffen your own fabrics easily following some basic process. I am explaining how to do it in this post and video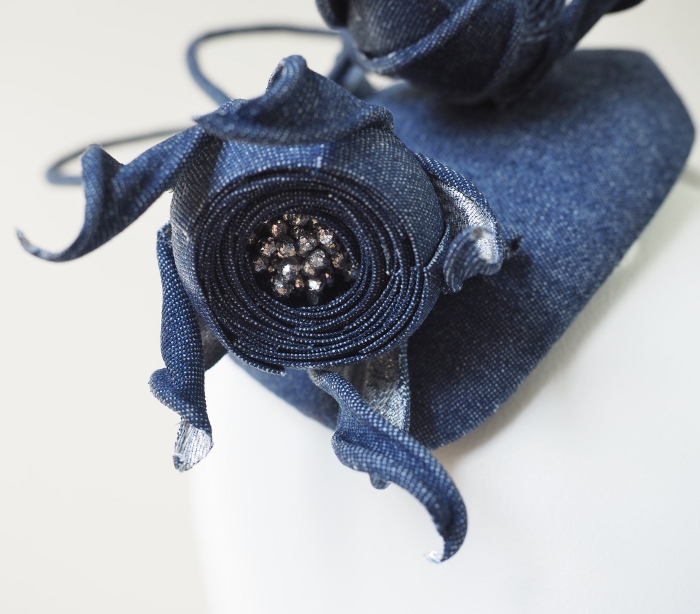 Perhaps, knowing my love for this material you are not surprised to learn that I have a whole
7 day step-by-step video course
devoted to a denim rosebud (pictured above) which is recommended as your beginner fabric rose course.
The denim rosebud can make a perfect groom's buttonhole. Complemented with other flowers it effortlessly becomes a more sophisticated corsage or a hat trim. Small hydrangea flowers work particularly well here together with the rose. They can also be used on their own and turned into a casual yet sweet everyday brooch. Use the step-by-step
Fabric Hydrangea Tutorial
when making your own denim hydrangea flowers.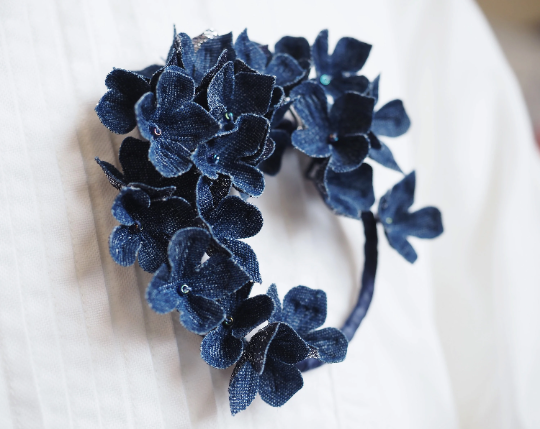 However more elaborate roses can be easily achieved with denim. The rose pictured on the right is based on my popular Silk Cropped Petal Rose Tutorial.
The contemporary design of straight cropped petals together with the recognisable look of classic blue denim make this rose unusually modern and visually attractive.
The tutorial on
Silk Cropped Petal Rose
 is aimed at artists with previous experience in flower making. You will deepen your knowledge further and learn to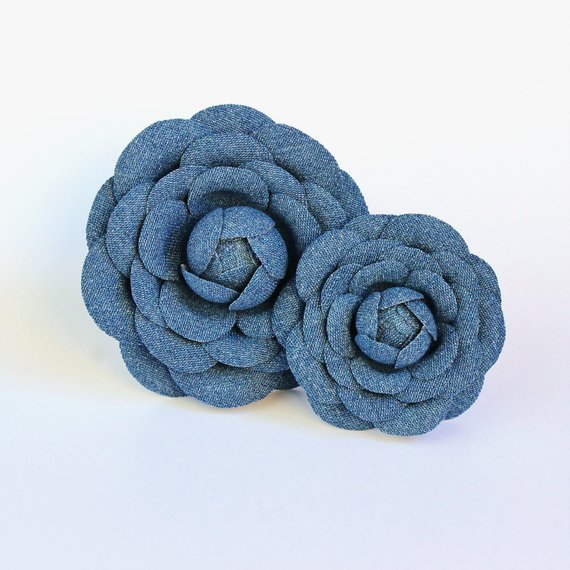 use a soft pad for shaping petals, learn to make complex rose leaves and an unusual beaded centre for your roses.
The denim theme in weddings has been going on for a while now. Over the years I have created groom's boutonnieres, bridal hair pieces and corsages using a range of different flower templates.
Because of the nature of denim and its thickness flowers with a smaller number of petals work best. Camellias are one of those flowers that can be easily recreated with denim.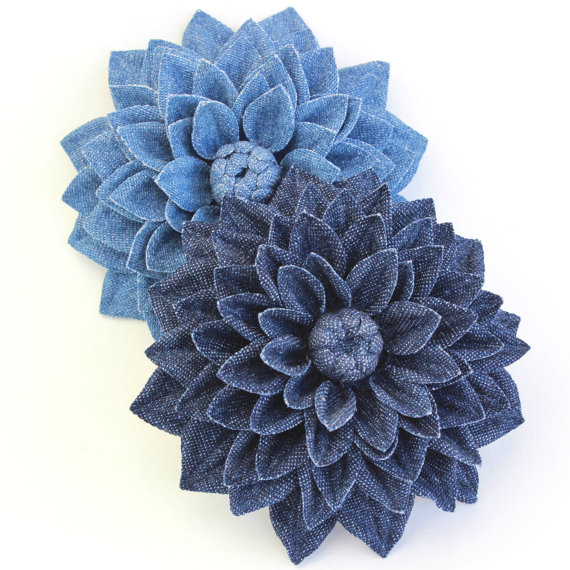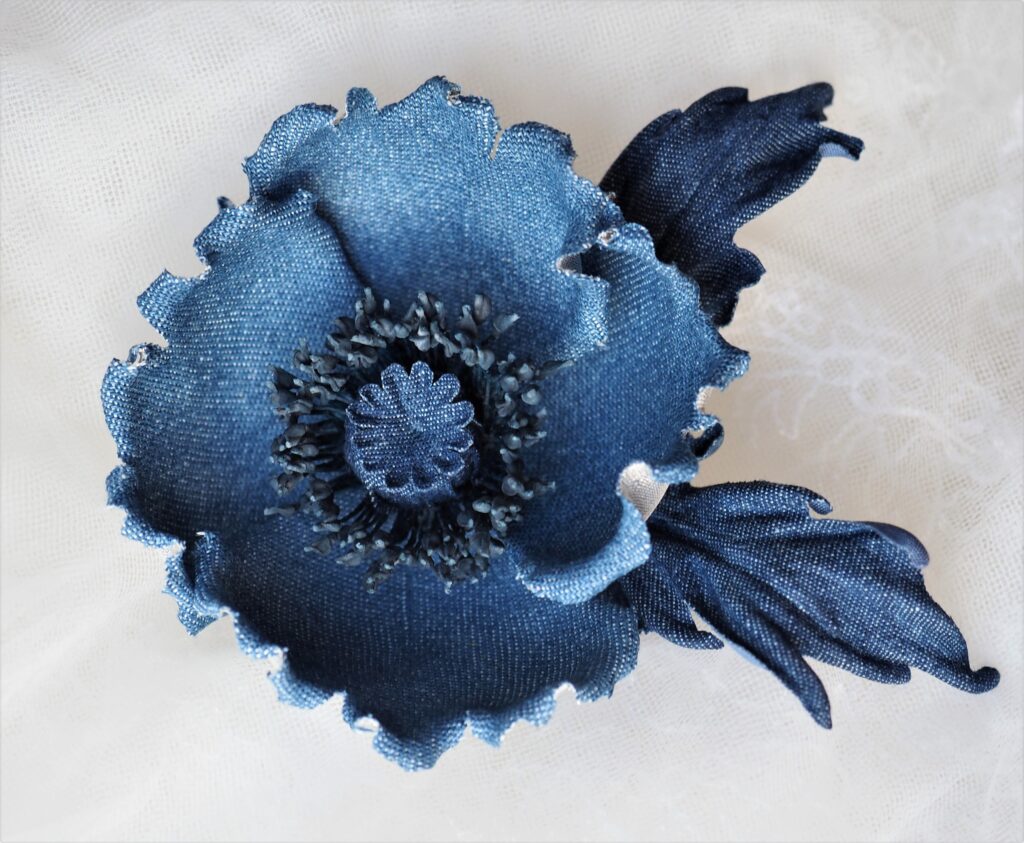 Poppies have always been a very popular flower. Made of leather, velvet, silk, cotton, organza or other medium, they always look attractive and often carry a special meaning as well (think Remembrance poppies).
Guess what, these flowers can also be made out of denim. In my live online demonstration on the Wild Velvet Poppies I have explained the process of creating a simple (not so simple 🙂 ) wild poppy with only 4 petals using backed petals that are sculpted in an attractive way. Plus you learn how to make a very recognisable seed box for the centre of your poppy. To learn more about this video demo and purchase you access to it visit the Wild Velvet Poppies Online Demonstration page.
To make sure the shape stays sharp and the flowers and butterflies are wearable, I do back denim flower parts with another fabric (as it is shown in the
For this job you are free to use either some plain silks like pongee, organza, lightweight habutai. Or you can throw in a touch of sparkle with  metallic fabrics if you fancy it.
Recently I have added another denim flower to my collection, this time a flower that can be made without specialist tools. Meet my denim lily, a perfect project for a beginner in flower making.
You can learn how to make this flower by purchasing the access to a recording of the live demonstration I held last winter  For more information click
HERE
.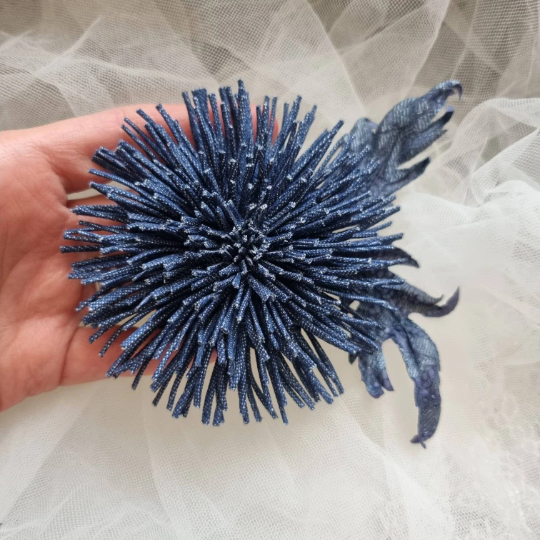 One more flower perfect for those students who have not got any flower shaping tools is the No Tool Chrysanthemum. This type of Chrysanthemum has originally been featured during one of my live demostrations where I has shown how to make it out of genuine leather. Denim works for this design just as well. Feel free to try it out and create your own edgy denim chrysanthemum without the use of any specialst tools. You can find the recording of the No Tool Leather Chrysanthemum here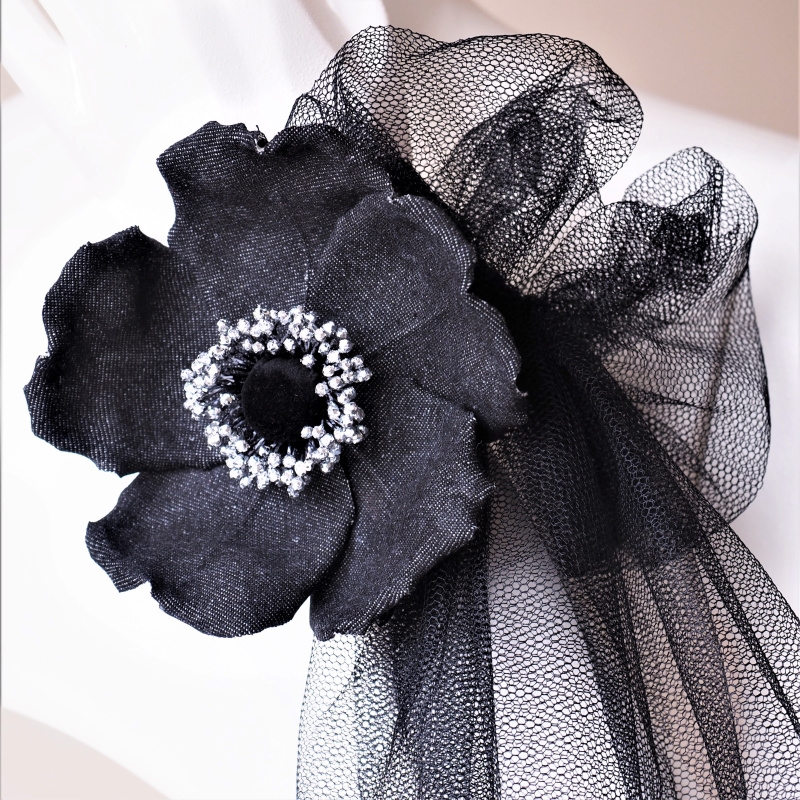 A rose that I have revisited lately is my Velvet Sweet Briar Rose (here pictured in black denim version).
A striking design, the velvet Sweet Briar Rose with its plush hand sculpted petals is stunning and indeed very sweet.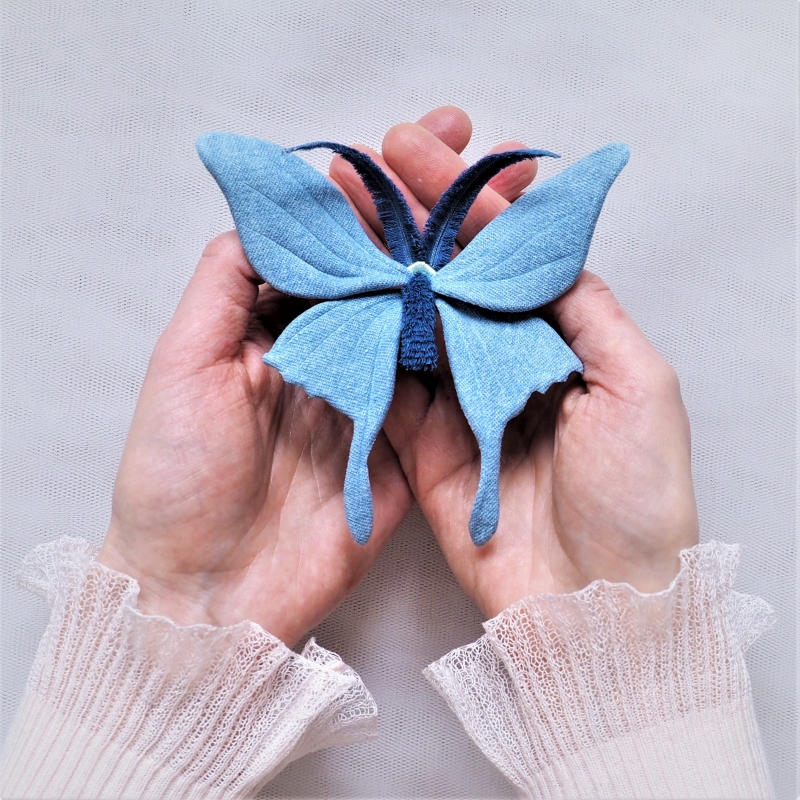 Do not underestimate this misleadingly simple rose. With so few petals, there is nowhere to hide imperfections. You will learn how to create impeccable velvet petals that look so live and moving when in fact they are rock solid hard and very sturdy. The tutorial is aimed at brave beginner and improver flower makers with a set of flower tools.
Denim is a popular and affordable fabric. I am quite sure you probably have some of it in your stash right now. Why not use it to create something beautiful to give as a little gift, to wear yourself or to offer to your customers?